Flaw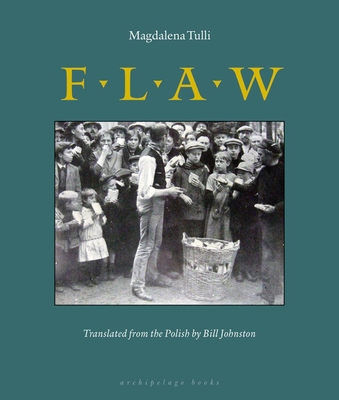 Flaw
Archipelago Books, Paperback, 9780979333019, 175pp.
Publication Date: November 1, 2007
* Individual store prices may vary.
Buy at Local Store
Enter your zip code below to purchase from an indie close to you.
or
Not Currently Available for Direct Purchase
Description
A single streetcar line runs around the sleepy square of an unnamed city. One day--out of nowhere--refugees pour from the streetcar and set up camp in the square. The residents grow hostile and eventually take extreme action.
Magdalena Tulli's novels include "Moving Parts," "Dreams and Stones," ""and" In Red." "Dreams and Stones" won Poland's Koscielski Foundation Prize in 1995, and "Moving Parts" was shortlisted for the 2002 NIKE Prize. Tulli lives in Warsaw.
Bill Johnston is director of the Polish Studies Center at Indiana University. In 2005, he won an ASTEEL translation prize for Tulli's "Dreams and Stones.
About the Author
Magdalena Tulli's other novels includeDreams and StonesandMoving Parts, nominated for the 2006 International IMPACDublin Literary Award, and In Red. Flaw has been shortlisted for the 2007 Nike Prize, Poland's most prestigious literary award. Tulli is also the translator of Proust and Calvino into Polish. She lives in Warsaw. Bill Johnston is the Chair of the Comparative Literature Department at Indiana University. His translations include Wies?aw My?liwskicentss Stone Upon Stone, and Magdalens Tullicentss Dreams and Stones, Moving Parts, and In Red. His 2008 translation of Tadeusz Ro?ewiczcentss new poems won the inaugural Found in Translation Prize and was shortlisted for the National Book Critics Circle Poetry Awa
Praise For Flaw…
The originality of Tulli's writing is not lessened by representing a family tree that includes Michaux, Kafka, Calvino, and Saramago. —W.S. Merwin

Powerful imagery caught in sinewy, architectural, elegiac prose. —Anne Waldman

Like all great works of art, Tulli's books create something new, something that doesn't respond to what the reader has been conditioned to expect. —Rain Taxi

Descartes famously entertained the suspicion that the whole of reality was nothing but a devilish imposition upon our imaginations, and in Flaw, Magdalena Tulli, an extraordinary Polish writer who is as much cosmologist as novelist, has fashioned a theater of reality that Descartes' devil might have dreamed up, a world of sinister politics and slapstick metaphysics, crowded with lonely hearts, refugees, and riot police. The book is coolly charming, funny, and heartbreaking. Even the devil should weep. —Edwin Frank

Johnston has rendered brilliantly Tulli's distinctive narrative voice in Flaw—coolly objective, unimpassioned, disembodied, belonging to no one in particular even when it occasionally adopts one or another character's point of view. Faithful to the Polish in every way that is meaningful, Johnston's translation is also a beautiful piece of English prose narrative. —Slavic and East European Journal

Each successive book of Tulli's, from Dreams and Stones to Flaw, not only demonstrates the author's consummate talent, but also ever more clearly defines the independence of her artistic vision. Far from being some reiteration of the avant-garde, Tulli's writing is something enchantingly different from the Polish prose of today and of earlier times. —Tygodnik Powszechny