Radical Homemakers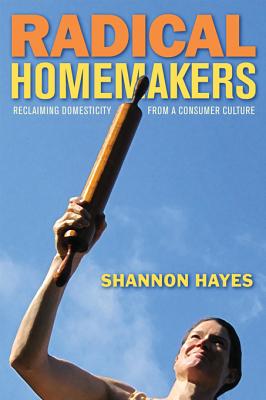 Radical Homemakers
Reclaiming Domesticity from a Consumer Culture
Left to Write, Paperback, 9780979439117, 300pp.
Publication Date: February 2010
* Individual store prices may vary.
Shop Local
Enter your zip code below to find indies closest to you.
Description
Mother Nature has shown her hand. Faced with climate change, dwindling resources, and species extinctions, most Americans understand the fundamental steps necessary to solve our global crises-drive less, consume less, increase self-reliance, buy locally, eat locally, rebuild our local communities.
In essence, the great work we face requires rekindling the home fires.Radical Homemakers is about men and women across the U.S. who focus on home and hearth as a political and ecological act, and who have centered their lives around family and community for personal fulfillment and cultural change. It explores what domesticity looks like in an era that has benefited from feminism, where domination and oppression are cast aside and where the choice to stay home is no longer equated with mind-numbing drudgery, economic insecurity, or relentless servitude.
Radical Homemakers nationwide speak about empowerment, transformation, happiness, and casting aside the pressures of a consumer culture to live in a world where money loses its power to relationships, independent thought, and creativity. If you ever considered quitting a job to plant tomatoes, read to a child, pursue creative work, can green beans and heal the planet, this is your book.
About the Author
Shannon Hayes works with her family raising grassfed meat on Sap Bush Hollow Farm in upstate New York. She is the author of Long Way on a Little, The Grassfed Gourmet, The Farmer and the Grill and the controversial best-seller, Radical Homemakers. Hayes holds a Ph.D. in sustainable agriculture and community development from Cornell University, blogs for Yes! Magazine, hosts GrassfedCooking.com, and writes about her daily life farming, homeschooling her kids and cooking great food at ShannonHayes.info.