God's Profits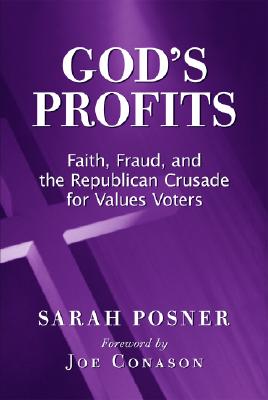 God's Profits
Faith, Fraud, and the Republican Crusade for Values Voters
Polipoint Press, Hardcover, 9780979482212, 207pp.
Publication Date: January 1, 2008
* Individual store prices may vary.
Buy at Local Store
Enter your zip code below to purchase from an indie close to you.
or
Not Currently Available for Direct Purchase
Description
Keenly observed and meticulously reported, "God's Profits" examines the unholy alliance between a new breed of corrupt televangelists and the Republican Party, which is eagerly courting "values voters" in the nation's largest megachurches.
Author Sarah Posner exposes the activities of Kenneth Copeland, John Hagee, Rod Parsley, T.D. Jakes, and other politically connected, skillfully marketed, and increasingly influential religious leaders. Preaching the "prosperity gospel"???the notion that faith and tithing alone can ensure financial security???both in their churches and over the airwaves, these charismatic leaders scam the gullible even as they enjoy unprecedented access to top Bush Administration officials. Admired by Republican strategists for their antigovernment ideology and authoritarian leadership styles, these televangelists work together to maximize profits; protect themselves legally; influence elections, judicial nominations, and promote their pro-war, apocalyptic ideas.
About the Author
Joe Conason is the national correspondent for the "New York Observer," where he writes a political column that is distrubuted by the United Features Syndicate. He is also a contributing editor for "Talk" magazine and a contributer to Salon.com. His writing has appeared in" The Nation, Harper's, The New Yorker, "and many other publications.
Gene Lyons won the National Magazine Award in 1980. He has written extensively for "Newsweek, Harper's The Nation, The New Review of Books, Texas Monthly, Entertainment Weekly," and many other magazines. His books include "The Higher Illiteracy" (University of Arkansas, 1988), "Widow's Web" (Simon & Schuster, 1993), and "Fools for Scanda"l (Franklin Square, 1996). He writes a political column for the "Arkansas Democrat-Gazette."