Asta in the Wings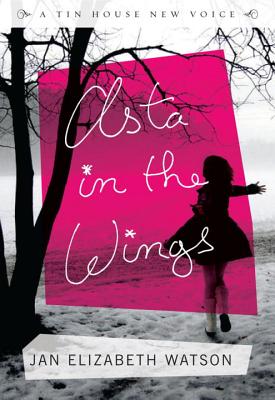 Asta in the Wings
Tin House Books, Paperback, 9780980243611, 314pp.
Publication Date: February 1, 2009
* Individual store prices may vary.
Buy at Local Store
Enter your zip code below to purchase from an indie close to you.
or
Not Currently Available for Direct Purchase
Description
Asta in the Wings is a poignant and often darkly funny story narrated by Asta Hewitt, a resourceful seven-year-old growing up in an isolated house in Bond Brook, Maine. Shut off from the outside world and restricted to the company of a delusional mother and a bookish older brother, Asta is content to be part of a "society of three," constructing fanciful, theatrical worlds of their own. When circumstances push her into a strange outside world with all of its discontents Asta must find a way to assimilate while remaining true to herself and her fractured family.
Praise For Asta in the Wings…
"Like Alice after tumbling down the rabbit hole, Asta takes us on a journey through a confounding world filled with remarkable characters. A compassionate tale mixed with hope and sorrow, Asta In the Wings evokes both the tenderness and the danger of one child's struggle to find a place for herself in a world she is only beginning to understand. It's a gem of a book."
Aryn Kyle, author of The God of Animals

In Asta in The Wings Jan Elizabeth Watson has created one of the most appealing fictional heroines I've encountered in a long time. Asta is brave, resourceful, intelligent, and loyal. She also happens to be seven years old, which means she's at the mercy of the unreliable adults who rule her world. The result is a vivid and suspenseful narrative where, over and over again, Asta shows us the world from her own very particular angle. A highly original debut."
Margot Livesey, author of The House on Fortune Street

With this, her excellent debut novel, Watson makes quick work of a setup that could prove challenging for even seasoned authors. Seven-year-old Asta grows up in rural Maine in the late 1970s, where she and her sickly nine-year-old brother, Orion, are kept locked in their house by their crazy mother, who fills their heads with tales of the plague-ravaged wasteland waiting outside their door. Equipped with little beyond what their mother provides, the children are wildly creative, surprisingly intelligent and share a deep bond with each other. But when their mother disappears and the two venture outside, they face the real world and real people for the first time. As Asta processes what's going on and is separated from her brother, she's reluctant to recognize what was wrong with her previous life. Asta's narration is full of the wonderment and matter-of-factness of youth, and her eye-opening trip into reality is flawlessly executed by Watson."
Publishers Weekly, starred review

"In this extraordinary debut novel, seven-year-old Asta and her malnourished nine-year-old brother, Orion, who live in a small town in Maine, have long been isolated from the outside world. Told by their mother that a plague has devastated the world, they have not set foot outside the house in years, although the two have formed a deep bond based on their richly imaginative play. Then their mother fails to come home from work, and the siblings set out to look for her. Watson vividly renders their first contact with others, including a surly store clerk, a pack of mean-spirited schoolchildren, and a kindly bus driver, from Asta's awestruck perspective as she slowly comes to grips with the fact that everything her mother told her was a lie. She is unwilling to acknowledge, at first, that there was anything amiss in her family life, although she is quick to perceive that people do not treat her with nearly the same careful attentiveness as her brother does. Sensitive and intelligent, Asta struggles to reconcile her familial loyalty with her new reality. A cleverly constructed, beautifully written first novel from a gifted new writer."Joanne Wilkinson, Booklist, Starred Review

"Jan Elizabeth Watson's debut, Asta in the Wings, follows two mavens of make-believeseven-year-old Asta and her nine-year-old brother, Orionas they reckon with the brutal realities of the adult world in the wilds of rural Maine."BookForum

"The mysteries and ambiguities that Watson creates, raising questions and not trying to answer themis what powers the novel."Nina MacLaughlin, The Portland Phoenix

"Watson hasn't set herself an easy task for her debut. The success of the novel rests entirely on her main character's sparrow-sized shoulders. Fortunately, Asta has reserves of intelligence and resourcefulness to spare and her voice is unforgettable."Yvonne Zipp, The Christian Science Monitor

"...a heartbreaking examination of otherness and normality...an expressive, authentic rendering of childhood through a child's eyes..." Sheila Ashdown, Powell's Review-a-Day

"This debut is a story of what happens when the outside world discovers that a widowed mother in Maine has removed her two children, seven-year-old Asta and her nine-year-old brother, Orion, from any contact with the outside world. Unaware that their mother is delusional, the two children do not feel deprived under her care, appreciating her for what she is able to provide. When their isolated living situation is discovered, the children find themselves at the mercy of kind yet sometimes misguided adults. Asta emerges as the stronger, more communicative child. Bright and sometimes wily, she remains steadfastly devoted to her gifted yet now mute brother. This she somehow manages while attempting to adjust to both home and school by herself, as the two children now live apart. The narrative is told from Asta's perspective, and initially the tone is eerie and unsettling. As the story unfolds, the situation feels less threatening and even incorporates elements of humor. An unusual novel; recommended for larger public libraries."
Library Journal, Feb. 15, 2009, Maureen Neville, Trenton P.L., NJ

"Told from the point-of-view of an adult Asta, the book captures a childlike sense of wonder at the everyday, informed by an adult's understanding, and Watson's intricate language deftly balances the two."Meeting House Magazine

"Asta in the Wings is a remarkable...The first published novel by Jan Elizabeth Watson, Asta in the Wings takes on a complicated world of isolation and separation from Asta's young point of view."MinnesotaReads.com

"Through Asta's unique voice and perspective we are reminded of the resilience of children. Through her ordeal of finding her way in a new life, we are reminded of the goodness of people, and through her constant search for Mother, we are reminded of the powerful mother-child bond of love. An early review called Asta in the Wings 'a gem of a book' and I would agree."BookBrowse.com

"Asta is precocious, innocent, curious, vulnerable, loyal, remarkably evenhanded and self-assured. She is the type of character that keeps you reading...Asta in the Wings succeeds because of Watson's skill in creating a character like Asta and in giving her a voice that somehow captures and illuminates childhood." Kevin Holtsberry, CollectedMiscellany.com

"Asta Hewitt is a 7-year-old growing up in an isolated house in Maine. Her mother reads Shakespeare aloud from the bathtub, conjures up imaginary illnesses, burns toys for no good reason. She is fanciful, vindictive and deeply loved. When she doesn't come home one night, Asta and her older brother, Orion, decide they must head out into the wider world. "We took turns tugging on the door latch; our hands overlapped at one point, and we pulled with all our might until the heavy old door opened wide and the snow flew straight into my eyes and open mouth. It was time to begin our search for Mother." "Asta in the Wings," Jan Elizabeth Watson's debut novel, is published by Portland's Tin House Books."The Oregonian


"Superbly imagined... a book that is ultimately about the power of memory and imagination to restore the broken past." The Somerville Journal

"...remarkably imaginative and heartbreaking...Seeing the world through Asta's eyes is delight enough in itself."Jasper Lepak, Rain Taxi

"Jan Elizabeth Watson's debut novel, Asta in the Wings (Tin House, 2009), captures the peculiar insightfulness of childhood through her fearless seven-year-old narrator, Asta. To say that the book is pitch perfect doesn't begin to capture the gorgeous ways Watson reveals the predicament of Asta and her nine-year-old brother, Orion: their magical, theatrical mother, Loretta, has serious problems that endanger her children...Watson makes it difficult to part with Asta, and impossible to forget her."FictionWritersReview.com

"Watson's story sends her young heroine from an extraordinary existence into the incredible, ordinary world, and her novel reaches unexpected heights in the process." Molly Templeton, Eugene Weekly

"Watson's novel beguiles because of Asta's compelling voice and Watson's tight writing."Debra Spark, Down East