Plunder and Blunder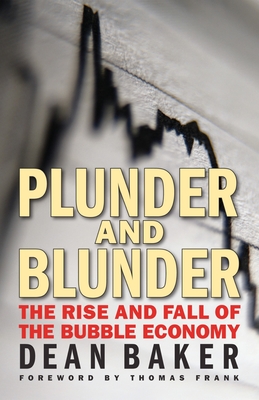 Plunder and Blunder
The Rise and Fall of the Bubble Economy
Berrett-Koehler Publishers, Paperback, 9780981576992, 170pp.
Publication Date: January 1, 2009
* Individual store prices may vary.
Buy at Local Store
Enter your zip code below to purchase from an indie close to you.
or
Buy Here
Description
For the second time this decade, the US economy is sinking into a recession due to the collapse of a financial bubble. The most recent calamity is likely to produce a downturn deeper and longer than the stock market crash of 2001. Dean Baker argues not only that competent economists should have recognized the developing housing bubble, but also that policy makers and the media cheerfully neglected those economists who did predict danger. Baker doesnt engage in 20-20 hindsight, but documents the fundamental policy changes since 1980 that destabilized the economy and eroded the broad prosperity of the post-war period. His expert analysis explains the outcomes clearly so we can prevent similar financial disasters in the future.
About the Author
Dean Baker is the cofounder of the Center for Economic Policy and Policy Research in Washington, DC. Before founding the center, he was a senior economist in Washington's Economic Policy Institute. He has authored or edited several books, including The Conservative Nanny State: How the Wealthy Use the Government to Stay Rich and Get Richer (2006), Social Security: The Phony Crisis (1999, with Mark Weisbrot), Getting Prices Right: The Debate Over the Consumer Price Index, which won a Choice book award as one of the outstanding academic books of 1998, and Globalization and Progressive Economic Policy (Cambridge University Press, 1998, coedited with Jerry Epstein and Bob Pollin). Dr Baker has also written for a variety of professional and general-audience publications. His work on economic policy issues is often cited in the media, and he is frequently interviewed on television and radio. Dr Baker has also testified a number of times before Congressional committees. He received his PhD in Economics from the University of Michigan.

Thomas Frank is the author of "Pity the Billionaire", "The Wrecking Crew", "What's the Matter with Kansas?", and "One Market Under God". A former opinion columnist for "The Wall Street Journal", Frank is the founding editor of "The Baffler" and a monthly columnist for "Harper's". He lives outside Washington, D.C.