War Surgery in Afghanistan and Iraq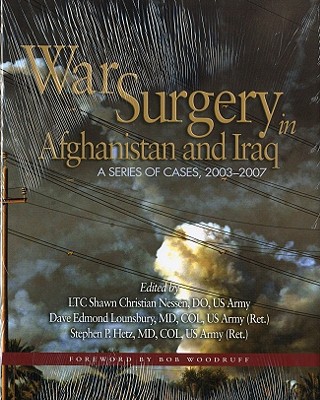 War Surgery in Afghanistan and Iraq
A Series of Cases, 2003-2007
Government Printing Office, Hardcover, 9780981822808, 441pp.
Publication Date: July 1, 2008
* Individual store prices may vary.
Buy at Local Store
Enter your zip code below to purchase from an indie close to you.
or
Not Currently Available for Direct Purchase
Description
War Surgery in Afghanistan and Iraq, with a foreword by Bob Woodruff, describes the management of nearly 100 cases of acute comat trauma, conducted in the forward austere operative environment of war in the 21st century.  Presented with vivid surgical photos, the cases encompass the spectrum of trauma that characterizes war today, as well as the medical interventions constantly evolving to treat these wounds.

With the most recent cases report from cobat hospitals within months of publication, this book presents emerging medical-surgical practice in real time.  The authors discuss in detail an array of topics including:
*  Damage control surgery
* Aggressive management of compartment syndrome
* New directions in the management of head injuries
* Use of tourniquets,
* Decision analysis in the approach to vascular repairs and
* Soft-tissue coverage of wounds.

War Surgery in Afghanistan and Iraq provides all medical professionals with insight into the extraordinary technical, clinical, and ethical challenges of their deployed colleagues.
 
Praise For War Surgery in Afghanistan and Iraq…
JAMA, American Medical Association dated November 5, 2008 by Thomas M. Scalea, MD, Shock Trauma Center, University of Maryland School of Medicine, Baltimore

"The organization of the book is unique and easy to comprehend.  The case presentations are quite succinct.  Teaching points as well as clinical implications are highlighted to make them easy to follow and to aid in understanding the important lessons.   . . .

The book becomes almost a tutorial essay of what can and should be done when delivering trauma care on the battlefield.  To my knowledge, no similar book has ever been put together to help educate civilian trauma practitioners.   . . .

I enjoyed the opportunity to review this book and enthusiastically recommend it to all readers interested in injury care."

 

Library Journal 5/15/2009 issue  Special Feature Article by Jim Church "Looking Back, Moving On: 2008 Best Notable Government Documents"

War Surgery in Afghanistan and Iraq: A Series of Cases, 2003-2007. by Shawn Christian Neesen & others. U.S. Dept. of the Army, Office of the Surgeon General. 2008. 441p. illus. SuDoc # D 104.35:SU 7. GPO Stock # 008-023-00133-2

"The latest volume in the "Textbooks of Military Medicine" series is not for the faint of heart, with its photos illustrating the grim nature of today's military conflicts.  Prepared especially for emergency medical personnel, the book provides the principles and priorities critical to managing the trauma of modern warfare."


American Medical Writers Association --- Winner of the Distinguished 2009 AMWA Medical Book Award


Publication: Medicine, Conflict, and Survival, June 2010 issue
Review Article citation: van Bergen, Leo , de Mare, Heidi and Meijman, Frans J.(2010) 'From Goya to Afghanistan - an essay on the ratio and ethics of medical war pictures', Medicine, Conflict and Survival, 26: 2, 124 - 144
"We performed a multidisciplinary analysis of War Surgery (2008), a book containing harsh, full-colour photographs of mutilated soldiers from the Iraq and Afghanistan wars. Our analysis shows that, within the medical context, this book is a major step forward in medical war communication and documentation. In the military context the book can be conceived as an attempt to put matters right given the enormous sacrifice some individuals have suffered. For the public, the relationship between the 'reality' and 'truth' of such photographs is ambiguous, because only looking at the photographs without reading the medical context is limiting. If the obsdrver is not familiar with medical practice, it is difficult for him to fully assess, signify, and acknowledge the value and relevance of this book."