Queer Questions Straight Talk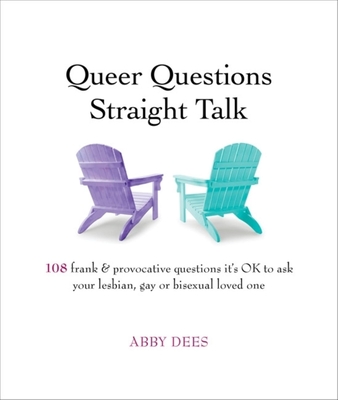 Queer Questions Straight Talk
108 Frank & Provocative Questions It's Ok to Ask Your Lesbian, Gay or Bisexual Loved One
St. Lynn's Press, Paperback, 9780981961521, 101pp.
Publication Date: May 1, 2010
* Individual store prices may vary.
Buy at Local Store
Enter your zip code below to purchase from an indie close to you.
or
Buy Here
Description
The 108 questions in "Queer Questions Straight Talk" have been provided by straight, lesbian, gay and bisexual people from diverse backgrounds, ages and religionswith additional contributions from leading gay public figures and their straight loved ones and allies. Designed around the idea that there are no bad questions, and no "wrong" answers, "Queer Questions" is an invitation to talk, honestly and lovingly, about what it really means to be gay, lesbian or bisexual. The book addresses all the important areas, including: Identity, Stereotypes vs Reality, Marriage and Relationships, Religion and Spirituality, Coming Out, Homophobia and Politics, and - yes - sex.
Praise For Queer Questions Straight Talk…
"Finally! Some real questions and answers in our ongoing national conversation about LGBT equality. This book is a public service!"  Kate Clinton, humorist and author of What the L?
"Oh how I wish this book was around when I was coming out! …  In her excellent new book, Abby Dees tackles 108 questions, from the serious (do you feel alienated spiritually from your family?) to the oh-so awkward (do LesBiGays use sex toys a lot?). Truth is, many of these are questions our straight friends and family are wondering but sometimes are too embarrassed to ask (except for my mother) … So, open up that dialogue with your fam and get to chatting." Instinct Magazine
"Sometimes humorous, sometimes thought-provoking, part memoir and part guide: Queer Questions Straight Talk: 108 Frank & Provocative Questions It's OK to ask your Lesbian, Gay or Bisexual Loved One dives into the awkward silence that befalls family members or friends when a loved one comes out. Author and civil rights attorney Abby Dees offers a great little guide to break the ice with anyone who needs a primer on queer culture and a little permission to pry."   MetroSource Magazine

"I took this book to a party with me.  The book talks about questions straight people may be interested in asking, so I put it to the test.  ... We had a blast." The New York Book Journal