Rasskazy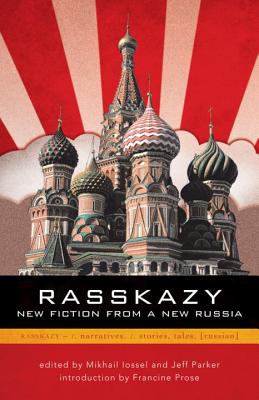 Rasskazy
New Fiction from a New Russia
Tin House Books, Paperback, 9780982053904, 375pp.
Publication Date: September 1, 2009
* Individual store prices may vary.
Buy at Local Store
Enter your zip code below to purchase from an indie close to you.
or
Not Currently Available for Direct Purchase
Description
Few countries have undergone more radical transformations than Russia has since the fall of the Soviet Union. The stories in Rasskazy: New Fiction from a New Russia present twenty-two depictions of the new Russia from its most talented young writers. Selected from the pages of the top Russian literary magazines and written by winners of the most prestigious literary awards, most of these stories appear here in English for the first time.
About the Author
Mikhail Iossel was born in Leningrad in 1955 and came to the United States in 1986. One of his stories was included in "The Best American Short Stories 1991". This collection was written in English.

Jeff Parker is the author of the novel Ovenman (Tin House Books). His short fiction and nonfiction have appeared in The Best American Nonrequired Reading, Matrix, Ploughshares, The Walrus, and others. He and artist William Powhida collaborated on the collection of images and stories The Back of the Line (DECODE). With Mikhail Iossel he edited Rasskazy: New Fiction From a New Russia (Tin House Books) and Amerika: Russian Writers View the United States (Dalkey Archive). He is currently the Acting Director of the MA in the Field of Creative Writing program at the University of Toronto.

Francine Prose is the author of twenty works of fiction. Her novel A Changed Man won the Dayton Literary Peace Prize, and Blue Angel was a finalist for the National Book Award. Her most recent works of nonfiction include the highly acclaimed Anne Frank: The Book, The Life, The Afterlife, and the New York Times bestseller Reading Like a Writer. The recipient of numerous grants and honors, including a Guggenheim and a Fulbright, a Director's Fellow at the Dorothy and Lewis B. Cullman Center for Scholars and Writers at the New York Public Library, Prose is a former president of PEN American Center, and a member of the American Academy of Arts and Letters and the American Academy of Arts and Sciences. Her most recent book is Lovers at the Chameleon Club, Paris 1932. She lives in New York City.
Praise For Rasskazy…
Tin House has done the world a service in its release of Rasskazy: New Fiction from a New Russia...Think of these stories (or rasskazy) as the final frontier."Willamette Week

"The current state of Russian identityartistic, political, social and beyondis vigorously examined in this anthology, offering readers a multifaceted portrait of the complex nation, from short, poetic pieces like Oleg Zobern's 'Bregovich's Sixth Journey,' to nearly journalistic narratives like Arkady Babchenko's powerful and harrowing remembrance of the Chechen war ('The Diesel Stop'). The dreams and fears of young and old are includedRoman Senchin's 'History' follows a retired and politically indifferent professor who gets caught up in a mass arrest of protesters and subsequently must wake up to the oppressive realities of his country, and Anna Starobinet's 'Rules' is a whimsical and poignant sketch of a frighteningly perceptive boy. The editors point out that the stories 'fall broadly into the category of what can be referred to as New Russian Realism.' This realism, though, leaves plenty of room for surreal and dryly humorous perspectives (such as Kirill Ryabov's 'Spit' and Vadim Kalinin's 'The Unbelievable and Tragic Story of Misha Shtrikov and His Cruel Wife'). This is a truly diverse series of revelations."Publishers Weekly

"...raw, intense and sure to leave an impression."Douglas Smith, The Seattle Times

Rasskazy presents not only the future of Russian writing but also the future of literature, that hopelessly human project."
Aleksandar Hemon, author of Love and Obstacles

Rasskazy is a marvelous collection that gives an American reader a taste of the diversity of literary voices as well as the richness of post-Soviet Russian life."
Lara Vapnyar, author of Broccoli and Other Tales of Food and Love

"A collection of first-rate stories like Rasskazy: New Fiction from a New Russia provides not only a much-needed renovation of our understanding of Russia's present, but also a glimpse into the world's future: a future featuring an exponential increase in sorrow and terror and corruption, endless premonitions of menace, and our main source of hope residing in the resilient capacities of human tenderness." Jim Shepard, author of Like You'd Understand Anyway

"The stories in Rasskazy: New Fiction from a New Russia...aptly illustrate this unbroken continuum of Russian literature dating back as far as Pushkin, Dostoevsky, and Tolstoy, etc. etc...their work demonstrates the full breadth of aesthetics and topical concerns of this young generation."Kevin Kinsella, TheRumpus.net

..."Rasskazy stands to remind us that Russia is a country still putting out vital literaturedespite the memory of censorship that creeps into its writing."Jason Diamonds, Vol. 1 Brooklyn

"It is a triumph that Rasskazy: New Fiction from a New Russia is one of those very few new translations surfacing in bookstores, because the voices in this collection are fresh and vital."The Collagist

"These young authors are clearly aware of the literary lineage to which they are eternally rooted. Yet ultimately they know their prose must grow beyond such lineages in order to articulate a distinct and alternate future: new fiction for a new Russia."The McGill Daily

"...these stories are about alienation and displacement...at least some Russians are still readingnot only themselves but their classicsas they write themselves out of cultural amnesia." Maxim D. Shrayer, The Globe and Mail

'Rasskazy...is rich with detail and hard-edged beauty. It is full of brutality and the poignancy of living through hard times. This collection should enable this crop of modern authors to step out of the literary shadows. It's time for their turn in the sun." Katie Schneider, The Oregonian

"Many old comrades reside here: loneliness, treachery, cruelty, melancholy, memories of disaster and departure, conveyed in heartrending tones by as talented a cohort of authors as to be found anywhere. This splendid collection of twenty-two Russians, none of whom had reached maturity when the Soviet Union collapsed, their work varied, so full of memorable situations, beckons the adventurous reader."Dalkey Archive Press's Review of Contemporary Fiction

"These tales of love and loss and change and redemption are peculiarly affecting. They achieve what any good short story writer should aspire to: plumbing the depths of human emotions in only a few short pages." Popmatters.com

"Many old comrades reside here: loneliness, treachery, cruelty, melancholy, memories of disaster and departure, conveyed in heartrending tones by as talented a cohort of authors as to be found anywhere."Dalkey Archive Press's Review of Contemporary Fiction