When Last on the Mountain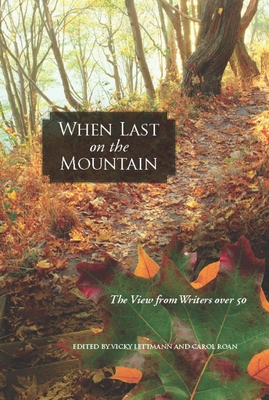 When Last on the Mountain
The View from Writers Over 50
Holy Cow Press, Paperback, 9780982354520, 388pp.
Publication Date: January 4, 2011
* Individual store prices may vary.
Buy at Local Store
Enter your zip code below to purchase from an indie close to you.
or
Not Currently Available for Direct Purchase
Description
Sometimes humorous, sometimes heart-wrenching, this gathering of new work by writers over fifty is always honest.
About the Author
Editor Vicky Lettmann, who writes fiction, essays, and poetry, served as an editor for the literary/arts magazines Speakeasy (the Loft) and Under Construction (North Hennepin Community College). She received an MFA in fiction writing from Warren Wilson College. Her work has appeared in Twenty-six Minnesota Writers and in Beloved on the Earth: 150 Poems of Grief and Gratitude. Editor Carol Roan teaches voice and stage presence in Winston-Salem, North Carolina. She is the author of Clues to American Dance (Starrhill Press, 1993) and Speak Easy: A Guide to Successful Performances, Presentations, Speeches, and Lectures (Starrhill Press, 1995) and writes a column on "The Art of Performance" for an online zine.
Praise For When Last on the Mountain…
"Whether you're 16 or 60 years old, you'll be enchanted by When Last on the Mountain: The View from Writers over 50, poems, essays, and stories edited by Vicky Lettmann and Carol RoanUnlike young writers who fuel their talent with hopeful dreams of the future, the 69 contributors write with a conviction that is grounded in a reality both heartwarming and heart-wrenching. From a poet laureate and Pulitzer Prize nominee to a social worker and a clergywoman, the authors have been shaped by the lives they've led."Chantel O'Neal, Winston-Salem Monthly

"Aging is depicted in all its vibrancy, poignancy, difficulty and even hilarity in a new anthology by writers in their 50s through 90s. The just-published anthology, When Last on the Mountain: The View from Writers over 50, disproves the cliché of being over the hill at 50. Instead of that old chestnut, the essays, fiction, and poetry offer unique and encouraging views of aging."Marsha Dubrow, from Examiner.com (Washington, DC)

"A mix that includes work by celebrated and previously unknown writers tackling rather predictable broad themes, including family memories, the passage of time and the close of life. The brave self-acceptance that the editors admire leads the best of these writers to take that very predictability and contrast it with surprising details and resilient attitudes that raise their writings out of the ordinary."Rosemary Herbert, Star-Tribune

"I was impressed beyond expression by the anthology's opening line from Judith Serin's essay 'Sharing a Room with Your Sister:' 'You don't remember anything about this; it's all stories.' Another of those utterly perfect beginnings, the anthology's clear strength and most appealing component. Isn't this precisely how, on some level, we will all end up summing up our lives: it's all stories."Sima Rabinowitz, Newpages.com

"In When Last on the Mountain, readers can have it all. This anthology speaks to the full range of human experience with many voices, all of them having only one thing in common: the writers have lived a significant measure of years on this earthat least fiftyand know how to offer up their lives with honesty, humor, courage and grace. Who are these writers? In the editors' preface, we learn that 'older writers sent us 2,100 submissions from across the country, from Qatar and Canada, from Mexico and Israel, from Switzerland, England, Japan, Australia, and a small island in the Pacific.' These writers are not just in their fifties, but cover the full spectrum of the wisdom years, ranging all the way into the nineties."Maril Crabtree, The Best Times