Over the Cliff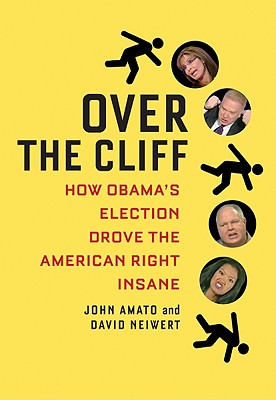 Over the Cliff
How Obama's Election Drove the American Right Insane
Polipoint Press, Paperback, 9780982417171, 280pp.
Publication Date: April 15, 2010
* Individual store prices may vary.
Buy at Local Store
Enter your zip code below to purchase from an indie close to you.
or
Not Currently Available for Direct Purchase
Description
A witty look at Tea Parties and the reactionaries that is both funny and frightening. It explores how it overtook the conservative movement after Obama became president. The book helps readers make sense of the chaos in the media and offers ideas for bringing a stop to it and help make America sane again

Compiling example after example, the editors of Crooks and Liars, a popular blog, examine the torrent of right-wing kookery—the eager willingness of conservatives to fervently believe things that are provably false—and its ramifications both for our national discourse and our national well-being. The authors show how this outlandish, overheated rhetoric—generated by mainstream-media figures like Glenn Beck, Rush Limbaugh, and Lou Dobbs—is accompanied by a wave of lethal right-wing threats and violence. They carefully expose the bias of Fox News contributors Neil Cavuto, Greta, Van Susteren, et al, and political opportunists like Sarah Palin and Newt Gingrich.

The book explores the main drivers of this descent into madness: the extremist Radical Right and the longtime Republican willingness—dating back to Nixon, but refined in more recent years by Lee Atwater and his acolytes—to engage in a divisive politics of resentment, both racial and cultural.

It takes a critical look at how Tea Party provocateurs like Dick Armey and his Freedom Works organization that take huge contributions from big money interests like former presidential candidate Steve Forbes that are willing to turn a blind eye to bigots, birthers and neo-John Birchers. The book demonstrates how the Tea Party is the true face of the Republican Party.

The authors propose simple ways ordinary Americans can help stop the descent into blind opposition for it own sake.  They suggest that news audiences demand accountability by from their sources by critically commenting on their Web site and to their editors or producers. They write "confronting the media malfeasance that makes rightwing populism possible is only an important first step in meeting the challenges posed by the rise of this political pathology in American life. Ultimately, it means confronting the movement and its leaders, particularly in their embrace of conspiracy theories, falsehoods, scapegoating, and vicious eliminationist rhetoric."
About the Author
John Amato is the founder of Crooks and Liars, named by TIME Magazine as one of the top 25 blogs for 2009. A pioneer of video blogging, he was part of CNN's election-night coverage in 2006 and has been featured in the New York Times, Los Angeles Times, Washington Post, USA Today, Newsweek, and Forbes. John has also appeared as a political pundit on MSNBC, CNN, Current TV, and E Entertainment.


David Neiwert is a freelance journalist and author. His work has appeared in the Washington Post, Salon, Seattle Magazine, and the Southern Poverty Law Center's Intelligence Report. His online  reportage for MSNBC on domestic terrorism won a National Press Club Award in 2000. He is the author of The Eliminationists: How Hate Talk Radicalized the American Right (PoliPointPress) and editor of the award-winning weblog Orcinus (http://dneiwert.blogspot.com).
Praise For Over the Cliff…
"John Amato and David Neiwert have produced a book that should stay on shelves for 50 years—long enough to remind us that at least some people understood the strange and vile energies consuming the social contract at the beginning of the third millenium. As a record of what is happening to American conservatism in the year 2010, Over the Cliff is unmatched."
—Rick Perlstein, author of Nixonland: The Rise of a President and the Fracturing of America

"If you want to understand the forces behind the extreme demonization of President Obama and the assault on progressive America, look no further than Over the Cliff. With witty analysis and thorough investigative reporting, Amato and Neiwert provide a definitive chronicle of the far-right's rapid movement from paranoia to outright violence.
—Max Blumenthal, author of Republican Gomorrah: Inside the Movement That Shattered the Party

"Over the Cliff is a genuinely useful cataloguing of the remarkable descent of the American right into vicious name-calling, racist demonizing, and paranoid conspiracy-mongering since the election of Barack Obama. Amato and Neiwert do a first-rate job of chronicling the dangerous, populist rage on the right that pandering politicians and shameless media pundits are aiding and abetting."
—Mark Potok, director of the Intelligence Project, Southern Poverty Law Center