Little Bunch of Madmen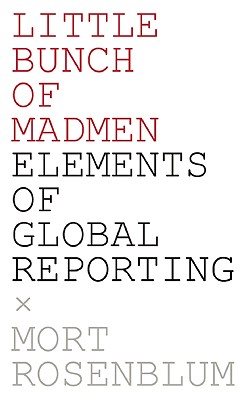 Little Bunch of Madmen
Elements of Global Reporting
de.Mo Design Limited, Paperback, 9780982590829, 263pp.
Publication Date: October 19, 2010
* Individual store prices may vary.
Not Currently Available for Direct Purchase
or
Shop Local
Enter your zip code below to purchase from an indie close to you.
Description
What matters is the messagea text for journalists and a guide for citizens.
About the Author
Mort Rosenblum was an Associated Press foreign correspondent for nearly forty years until 2004, covering coups, earthquakes, wars, and everything else in more than one hundred countries. He was editor of the "International Herald Tribune" from 1979 to1981. He has written twelve books, including "Escaping Plato's" "Cave", and has been nominated for the Pulitzer Prize eight times. He splits his time between a boat on the Seine in Paris and an olive farm in the south of France
Praise For Little Bunch of Madmen…
"A rare blend of great storytelling and pure wisdom, Little Bunch of Madmen is the best thing yet written about the state of modern journalism by one of its few true living masters, and every reporter working today should go out and buy it and read it… Checklist for Kabul: Flak jacket, passport, money, cell-phone, flashlight, extra batteries, spare underwear, and a Little Bunch of Madmen."—Jon Lee Anderson, The New Yorker
"This is a hell of a lot more than another journalism textbook. It offers valuable lessons on the craft, but it is really a journey of a lifetime in international reporting and an invitation to a new generation to venture out in the world and do the work that needs to be done. It comes from a great reporter who knows that the best of journalism requires one simple axiom: ground truth. You have to be there on the ground to get the story."—Charles M. Sennott, executive editor, GlobalPost
Incisive thinking, ethical passion, and sharp wit permeate this compelling book. As an educator and former journalist, I am immensely thankful. It fuses wisdom, insight, and expert advice for what hopefully will be a new generation of intelligent, avid, and risk-taking journalists. Written by a uniquely crazy, courageous, and irascible veteran, the reminiscences are compelling, the thrusts on target."—Sherman Teichman, director, Institute for Global Leadership, Tufts University
"Mort Rosenblum is one of those legendary journalists who has been everywhere and done everything, mostly with gunfire in the background. These days young reporters abroad are particularly short of guidance because they are now very often stringers, paid (not enough) by the piece and getting very little advice or help from the news organizations they write for. So Rosenblum offers suggestions for how to get into countries without visas, how to stay alive, and the importance of bringing along parachute cord, duct tape and tiger balm (and make it all carry-on, if possible!)."—Nick Kristof, The New York Times
"Little Bunch of Madmen sweeps around the globe collecting the best practices and covering the speed bumps and pitfalls in international reporting. He strings the stories together on the high wire of sound and ethical journalism, reminding us what reporting in the public interest should, and used to, be. The book is accessible, instructive, and sorely needed."—Joan Konner, dean emerita, Columbia Graduate School of Journalism
Are Foreign Correspondents' an endangered species? Not for Mort Rosenblum, who writes an informative and witty book for young professionals and those interested in the wider world. He broadens 'Old Media's' pool and offers important guidance to anyone who wants to plunge into international reporting." —Deborah Amos, National Public Radio