Stone Upon Stone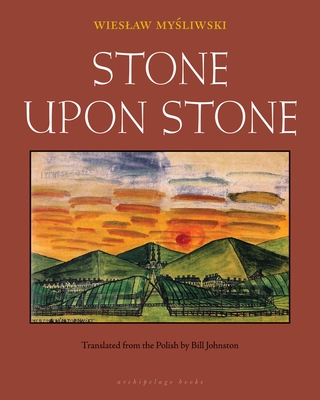 Stone Upon Stone
Archipelago Books, Paperback, 9780982624623, 500pp.
Publication Date: January 18, 2011
* Individual store prices may vary.
Buy at Local Store
Enter your zip code below to purchase from an indie close to you.
or
Buy Here
Description

"Sweeping...irreverent...With winning candor...Pietruszka chronicles the modernization of rural Poland and celebrates the persistence of desire."--"The New Yorker"
A masterpiece of postwar Polish literature, "Stone Upon Stone" is Wieslaw Mysliwski's grand epic in the rural tradition--a profound and irreverent stream of memory cutting through the rich and varied terrain of one man's connection to the land, to his family and community, to women, to tradition, to God, to death, and to what it means to be alive. Wise and impetuous, plain-spoken and compassionate Szymek Pietruszka recalls his youth in their village, his time as a guerrilla soldier, as a wedding official, barber, policeman, lover, drinker, and caretaker for his invalid brother. Filled with interwoven stories and voices, by turns hilarious and moving, Szymek's narrative exudes the profound wisdom of one who has suffered yet who loves life to the very core.
Wieslaw Mysliwski received the prestigious Nike Literary Award twice. "Stone Upon Stone" is his most celebrated achievement.

Praise For Stone Upon Stone…
"This is an epic novel about modernization in rural Poland." — Publisher's Weekly, 20 Best Books in Translation You've Never Read

Like a more agrarian Beckett, a less gothic Faulkner, a slightly warmer Laxness, Mysliwski masterfully renders in Johnston's gorgeous translation (Mysliwski's first into English) life in a Polish farming village before and after WWII. . . . Richly textured and wonderfully evocative. — Publishers Weekly, starred review

Joyously anchored in the physical world, steeped in storytelling, a delight from start to finish. — Kirkus, starred review

Wieslaw Mysliwski's vast novel is an artistic accomplishment of the highest order… A masterpiece beyond the shadow of a doubt. — Henryk Bereza

A hymn in praise of life. — Krysytna Dabrowska

A marvel of narrative seduction, a rare double masterpiece of storytelling and translation.. . . Mysliwski's prose, replete with wit and an almost casual intensity, skips nimbly from one emotional register to the next, carrying dramatic force. . . . He manages tone so finely, orchestrating a perfect continuity between the tragic and the comic and, ultimately, between life and death . . . In his translation Bill Johnston navigates Mysliwski's modulations with skill and the lightness of touch that is generally the face of profound labor. — Times Literary Supplement

A marvelous, garrulous book ... The grandest example of a genre ...  Szymek's rustic voice narrates with a naivete and an eloquence that are equally endearing, reaching into every corner of the Polish countryside like a great shining sun. — The National

Sweeping . . . irreverent . . With winning candor . . . chronicles the modernization of rural Poland and celebrates the persistence of desire. — The New Yorker