Journal of an Ordinary Grief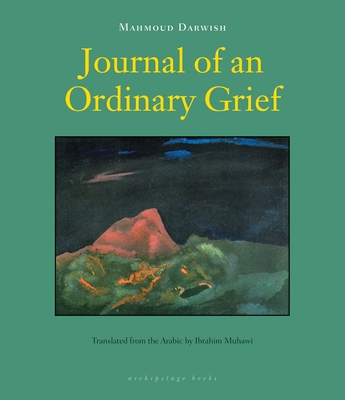 Journal of an Ordinary Grief
Archipelago Books, Paperback, 9780982624647, 177pp.
Publication Date: November 30, 2010
* Individual store prices may vary.
Buy Now
or
Shop Local
Enter your zip code below to purchase from an indie close to you.
Description
"Darwish is to be read with urgency, in the night, when nothing else moves but his lines."
"-The Village Voice"
"Every beautiful poem is an act of resistance," asserts Darwish. Both voice of the Palestinian people and one of the most transcendent poets of his generation, Mahmoud Darwish also wrote several remarkable volumes of autobiographical essays over the course of his life. First published in Beirut in 1973, these probing essays ask vital questions about the existentially complex realities the Palestinians in Israel face and the ambiguity of Darwish's own identity as an Israeli Palestinian. They call upon myth, memory, and language to delve into the poet's experience of house arrest, his encounters with Israeli interrogators, and the periods he spent in prison. Meditative, lyrical, rhythmic, Darwish gives absence a vital presence in these linked essays. "Journal" is a moving and intimate account of the loss of homeland and, for many, of life inside the porous walls of occupation--no ordinary grief.
Mahmoud Darwish (1941-2008) was one of the most acclaimed poets in the Arab world. His twenty books of poetry include "Why Did You Leave the Horse Alone?""A River Dies of Thirst," "Mural," "The Bed of the Stranger," and "In the Presence of Absence" (forthcoming from Archipelago Books). In 2001 Darwish was awarded the Lannan Cultural Freedom Prize.

About the Author
Mahmoud Darwish is the author of 30 books of poetry and prose, as well as the Palestinian Declaration of Independence. He has worked as a journalist, was director of the Palestinian Research Center, and lived in exile until his return to Palestine in 1996. He has received many international awards for his poetry.

Ibrahim Muhawi is Professor of English at the University of Tunis. Sharif Kanaana is Associate Professor of Anthropology at Birzeit University.
Praise For Journal of an Ordinary Grief…
There is no finer Arab poet for English readers to start with. —Times Literary Supplement

Very impressive. —Juan Goytisolo

This collection of essays is one of the most effective, useful, and deeply moving witnessings of a historical tragedy I have read. The writing has an unsurpassed freshness, power, and awe exactly because it is poetry that happens to have justified margins. Darwish hungers to understand why such calamities have befallen his people and has a profound need for sharing—and succeeds brilliantly at both of these. This book should beon the reading list of every school in this country. —Pierre Joris

An important anchor in the work of a poet celebrated for providing a national identity to displaced Palestinians. Darwish gives displacement a personal and deeply anguished voice. His artistry provides greater context for a conflict that to this day floods citizens of the world with grief. —The New York Times Book Review

Rewardingly contemplative. Capably translated and helpfully annotated by Ibrahim Muhawi. A passionate ode to his homeland. —The Christian Science Monitor

Mahmoud Darwish is the Palestinain poet laureate. His verses chronicle the Palestinians' anguish at the loss of their land. Ibrahim Muhawi's limpid translation captures the longing, the ache of exile. —The Economist

Such an achievement. Indispensable reading for anyone interested in the roots and ramifications of the Israeli and Palestinian conflict. Muhawi's own prose and meticulous footnotes are impeccable. An inspired and scholarly piece of research. —Words Without Borders