Spork-Fed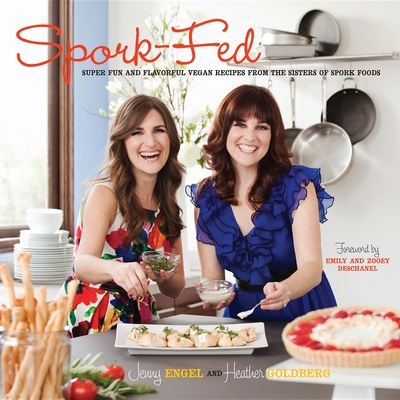 Spork-Fed
Super Fun and Flavorful Vegan Recipes from the Sisters of Spork Foods
St. Lynn's Press, Paperback, 9780983272618, 190pp.
Publication Date: October 1, 2011
* Individual store prices may vary.
Buy at Local Store
Enter your zip code below to purchase from an indie close to you.
or
Buy Here
Description
Foreword by sisters Emily Deschanel (star of the TV series 'Bones') and Zooey Deschanel (film and TV actress)
Spork-Fed is a savvy, upbeat introduction to vegan cuisine written by sisters who know great food! Flavor is the top priority in these easy-to-prepare recipes, many of them gluten-free. With full-color photographs throughout, this visually striking book shows you how to make everything from decadent desserts to homemade tofu. The Spork Sisters share more than 75 delicious recipes, along with dozens of health tips. In addition to the recipes, Spork-Fed's themed menu pairings will help any cook prepare for special occasions, quick family weeknight meals, or extravagant feasts sure to impress any guest.
Praise For Spork-Fed…
"Jenny and Heather have truly spiced up vegan cuisine, making it modern, appealing and approachable for anyone looking to eat healthy food without sacrificing flavor. I always look forward to my trips back to L.A. to enjoy a meal with them." – Chef Tal Ronnen, New York Times bestselling author, The Conscious Cook
"With the Spork Sisters on the scene, veganism is more fun than ever.  Their incredible knowledge, amazing recipes and brilliant sense of humor make Heather and Jenny two of my favorite kitchen companions.  They are living, breathing, giggling proof that food can be as heavenly as it is healthy. Welcome to Spork." – Rory Freedman, co-author of the #1 New York Times Bestseller Skinny Bitch

"Finally, Jenny and Heather have decided to write a cookbook! Vegans, vegetarians and omnivores alike will fall in love with these fabulous sisters and their amazing food. We encourage everyone to pick up this book and take the Spork adventure."  – Emily Deschanel (star of the TV series 'Bones') and Zooey Deschanel (film and TV actor)
"I found Spork Foods to be tasty, fresh and delightfully carcass-free. Two stars! (our of two, so hey...pretty good!)"  – Al Yankovic (Weird Al), singer-songwriter, actor, comedian

"Spork Foods has taken vegan food to a whole new level! Their recipes are creative, delicious and very do-able at home!"  – Ed Begley Jr, activist and star of Living With Ed on Planet Green

"Their positive energy is infectious! They make you excited about all of the yummy, healthy and cruelty-free options out there." – Alexandra Paul, film and TV actor-activist

"Heather and Jenny are an exciting addition to the vegan scene...they make veganism look goooood!" – Sarah Kramer, author of How It All Vegan

"The best thing each of us can do to make a difference for animals as well as ourselves and the planet, is to adopt a vegan lifestyle. Heather and Jenny's upbeat approach shows you how enjoyable and easy vegan cooking is. Compassion never tasted this good!" – Gene Baur, President and Co-Founder of Farm Sanctuary
 "Finally, Jenny and Heather have decided to write a cookbook! For years now, they have been making…and teaching people how to make…delicious, healthy food that just happens to be vegan. Vegans, vegetarians and omnivores alike will fall in love with these fabulous sisters and their amazing food. We encourage everyone to pick up this book and take the Spork adventure."– Emily Deschanel (star of the TV series 'Bones') and Zooey Deschanel (film and TV actress)