Owsley and Me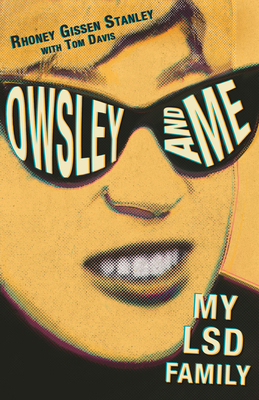 Owsley and Me
My LSD Family
Monkfish Book Publishing, Paperback, 9780983358930, 271pp.
Publication Date: April 16, 2013
* Individual store prices may vary.
Buy at Local Store
Enter your zip code below to purchase from an indie close to you.
or
Buy Here
Description
Owsley and Me is an insider's account of sixties counterculture, told by the partner of Owsley "Bear" Stanley.
About the Author
Rhoney Stanley lived & worked side by side with Owsley Stanley, one of the pioneers of the psychedelic revolution of the sixties. During their time together, he produced 1.25 million doses of LSD. Together, they raised a son, Starfinder. She is a Columbia University graduate.

Tom Davis was an Emmy Award-winning American writer and comedian. He is best known for being one of the original writers for Saturday Night Live and for his former partnership with Al Franken, as half of the comedy duo "Franken & Davis." His memoir, "Thirty-Nine Years of Short-Term Memory Loss: The Early Days of SNL from Someone Who Was There" was published in 2010 by Grove.

Brief Bio of "Owsley"

Owsley Stanley (better known as "Owsley" or "Bear" to his friends and family) played a key role during the' psychedelic revolution' of the sixties. He was the first person to mass manufacture LSD and is reputed to have produced more than 1.25 million doses between the years 1965 to 1967. In 1965 Owsley became the key supplier of LSD to Ken Kesey and the Merry Pranksters. He was later featured in Tom Wolfe's The Electric Kool-Aid Acid Test. He also provided LSD to the Beatles during the filming of Magical Mystery Tour.

In 1966 during the Acid tests Owsley met the members of the Grateful Dead. He became their first soundman as well as financier. Along with his close friend Bob Thomas, he designed the Lightning Bolt Skull Logo often referred to by fans as the' Steal Your Face' which predated the album of the same name by 8 years. Stanley began a long- term practice of recording the Dead while they rehearsed and performed. Stanley also made numerous live recordings of other leading 1960s and 1970s artists appearing in San Francisco, including Quicksilver Messenger Service, Jefferson Airplane, early Jefferson Starship, Janis Joplin, Big Brother and the Holding Company, Taj Mahal, Santana, Miles Davis, Jimi Hendrix, Johnny Cash, Blue Cheer (a band that took its name from the nickname of Stanley's LSD), and many others. While many Owsley recordings have been released, many more remain unissued.

Owsley was born (1935) into a prominent political family from Kentucky. His father was a government attorney. His grandfather, A. Owsley Stanley, a member of the United States Senate after serving as Governor of Kentucky and in the U.S. House of Representatives, campaigned against alcohol Prohibition. Owsley studied engineering at the University of Virginia before dropping out in 1956.He enlisted in the U.S. Air Force and served for eighteen months before being discharged in 1958. Later, inspired by a 1958 performance of the Bolshoi Ballet, he began studying ballet in Los Angeles, supporting himself for a time as a professional dancer. In 1963, he enrolled at the University of California, Berkeley where he became involved in the psychoactive drug scene. He dropped out after a semester, took a technical job at KGO-TV, and began producing LSD in a small lab located in the bathroom of a house near campus. His makeshift laboratory was raided by police on February 21, 1965. He beat the charges and successfully sued for the return of his equipment. The police were looking for methamphetamine but found only LSD, which was not illegal at the time.

In 1970, 19 members of the Grateful Dead and crew were busted at a French Quarter hotel after returning from a concert at "The Warehouse" in New Orleans, Louisiana for a combination of drugs.. Everybody in the band, except Pigpen and Tom Constanten, was included in the bust including s a man listed as Owsley Stanley, 35, of Alexandria, Virginia, a technician for the band, booked with illegal possession of narcotics, dangerous non-narcotics, LSD, and barbiturates. Ultimately Owsley was confined to Federal prison from 1970 to 1972, after a Federal judge intervened by revoking his release from the 1967 case. Stanley took advantage of the opportunity there to learn metalwork and jewelry-making.

Owsley died after an automobile accident in Australia on March 12, 2011. The statement released on behalf of Stanley's family said the car crash occurred near his home, on a rural stretch of highway near Mareeba, Queensland. He is survived by his wife Sheila, four children, eight grandchildren, and two great-grandchildren.