Farmer Will Allen and the Growing Table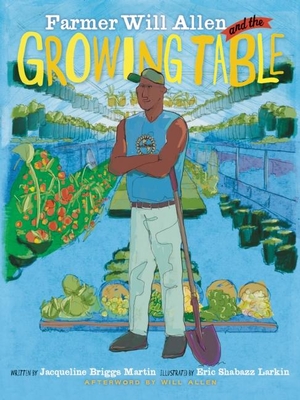 Farmer Will Allen and the Growing Table
Readers to Eaters, Hardcover, 9780983661535, 32pp.
Publication Date: September 10, 2013
* Individual store prices may vary.
Buy Now
or
Shop Local
Enter your zip code below to purchase from an indie close to you.
Description
Will Allen is no ordinary farmer. A former basketball star, he's as tall as his truck, and he can hold a cabbage, or a basketball, in one hand. But what is most special about Farmer Will is that he can see what others can't see. When he looked at an abandoned city lot he saw a huge table, big enough to feed the whole world. No space, no problem. Poor soil, there's a solution. Need help, found it. Farmer Will is a genius in solving problems. In 2008, the MacArthur Foundation named him one. Jacqueline Briggs Martin, author of the Caldecott winner, "Snowflake Bentley," tells the inspiring story of an innovator, educator, and community builder. Combined with artist Eric Larkin's striking artwork, readers will share Will Allen's optimism and determination to bring good food to every table.

About the Author
Jacqueline Briggs Martin is the author of Snowflake Bentley, winner of the 1999 Caldecott Medal, and The Lamp, the Ice, and the Boat Called Fish, an ALA Notable Book, a Bulletin Blue Ribbon Book, Riverbank Review Finalist, Notable Social Studies Trade book and winner of The Golden Kite Award for Illustration. She grew up on a farm in Maine much like the one in this story. She lives in Mt. Vernon, Iowa.



Will Allen grew up on a small farm in southern California and served in the Marine Corps between the Korean and Vietnam wars. He received a PhD in Anthropology (focused on Peruvian tropical forest agriculture) and taught at U-Ill and UC-Santa Barbara before being fired and jailed for a year for civil rights and antiwar activism. He returned to farming and farm labor full-time in 1972 and has been farming organically ever since, in Oregon, California, and Vermont, where he now co-manages Cedar Circle Farm (www.cedarcirclefarm.org). He founded the Sustainable Cotton Project and is a board member of the Organic Consumers Association, Rural Vermont, and is a co-chair of Farms Not Arms.
Praise For Farmer Will Allen and the Growing Table…
"Will Allen can see / what others can't see. / When he sees kids, he sees farmers." Martin begins and ends with this positive premise. In between, she sketches salient events that stoked Allen's commitment to empowering people to grow their own food. Raised in a food-loving family that grew and shared its own, Will eschewed weeding and picking for college and a move to Belgium to play pro basketball, where he continued gardening on the side. He brought an acumen for growing veggies home to Milwaukee and saw that "fresh vegetables / were as scarce in the city / as trout in the desert." Will bought a polluted city lot and created compost from food waste, aided by red wiggler worms. He taught kids and teens to farm and traveled the world with his message. Martin's verse text, laced with word bursts in ebullient display type, engages both readers and listeners. In his picture-book debut, Larkin provides mixed-media cityscapes that, eventually, brim with the fruits of Allen's labor and match Will's exuberance and spirit of community. From the small press Readers To Eaters, this worthy collaboration reveals how one man's vision of food for all has inspired an amazing life of service."

—Kirkus Reviews, 9/15/13


"The book is a beautiful tribute not just to its hero Will Allen but also to the right of every child to have access to good, healthy, cheap food. The ultimate picture book about muncha muncha muncha...While we talk about the rise in obesity levels in the United States, it just makes sense to talk about how economics affect access to healthy alternatives. And part of what makes Farmer Will Allen such a good story is that it draws that connection without getting anywhere near a soapbox...Fun and informative by turns, raise a carrot or cabbage in honor of this awesome dude and his equally awesome tale."

—Betsy Bird, School Library Journal's "Fuse #8 Production" Blog


"An inspiring non-fiction picturebook...The text is formatted as an engaging narrative punctuated by questions, dialog, and information. The illustrations add enthusiastic color mixed in bold patches and active linework to create lovely textured backgrounds that subtly become more saturated over the course of the story. The characters stand out as almost flat with cartoon-like simplicity that allows them to shift dynamically from page to page, creating an almost universal field of helping hands. Concluding with the motivational question, "How big will YOUR table be?"

—Reading Today, International Reading Association


"Farmer Will Allen and the Growing Table beautifully captures his ambitious belief in growing the next generation of alternative farmers, good eaters, and community self-reliance. This book is an ideal companion for school garden educators and for parents wanting to make gardening relevant to kids. I'd also recommend it for social change activists since the book makes complex social enterprise ideas into practical, tactile steps."

—Richard McCarthy, Executive Director, Slow Food USA


"Farmer Will Allen and the Growing Table is an inspirational story that highlights the importance of healthy, homegrown food and the importance of civic engagement. Will Allen's story serves as an educational tool for children to recognize how important it is to be able to access healthy food and revitalize urban spaces. Will is a champion for this message, and is a living example of how one person can change a city."

—Mayor Tom Barrett, Milwaukee