Why We Believe in God(s)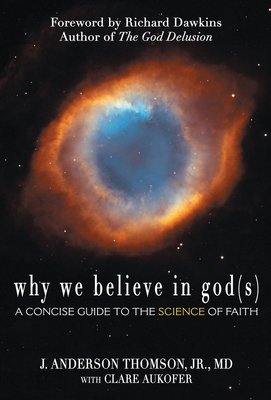 Why We Believe in God(s)
A Concise Guide to the Science of Faith
Pitchstone Publishing, Paperback, 9780984493210, 144pp.
Publication Date: June 2011
* Individual store prices may vary.
Not Currently Available for Direct Purchase
or
Shop Local
Enter your zip code below to purchase from an indie close to you.
Description
In this groundbreaking volume, J. Anderson Thomson, Jr., MD, with Clare Aukofer, offers a succinct yet comprehensive study of how and why the human mind generates religious belief. Dr. Thomson, a highly respected practicing psychiatrist with credentials in forensic psychiatry and evolutionary psychology, methodically investigates the components and causes of religious belief in the same way any scientist would investigate the movement of astronomical bodies or the evolution of life over time--that is, as a purely natural phenomenon. Providing compelling evidence from psychology, the cognitive neurosciences, and related fields, he, with Ms. Aukofer, presents an easily accessible and exceptionally convincing case that god(s) were created by man--not vice versa. With this slim volume, Dr. Thomson establishes himself as a must-read thinker and leading voice on the primacy of reason and science over superstition and religion.
About the Author
Russ Federman, PhD, is director of Counseling and Psychological Services at the University of Virginia and clinical assistant professor in the university's Department of Psychiatry and Neurobiological Sciences. He is a licensed psychologist, a diplomate in clinical psychology through the American Board of Professional Psychology, and a member of the editorial board for the Journal of College Counseling.
Richard Dawkins was first catapulted to fame with his iconic work The Selfish Gene, which he followed with a string of bestselling books. Part one of his autobiography, An Appetite for Wonder, was published in 2013.
Dawkins is a Fellow of both the Royal Society and the Royal Society of Literature. He is the recipient of numerous honours and awards, including the Royal Society of Literature Award (1987), the Michael Faraday Award of the Royal Society (1990), the International Cosmos Prize for Achievement in Human Science (1997), the Kistler Prize (2001), the Shakespeare Prize (2005), the Lewis Thomas Prize for Writing about Science (2006), the Galaxy British Book Awards Author of the Year Award (2007), the Deschner Prize (2007) and the Nierenberg Prize for Science in the Public Interest (2009). He retired from his position as Charles Simonyi Professor for the Public Understanding of Science at Oxford University in 2008 and remains a Fellow of New College.
In 2012, scientists studying fish in Sri Lanka created Dawkinsia as a new genus name, in recognition of his contribution to the public understanding of evolutionary science. In the same year, Richard Dawkins appeared in the BBC Four television series Beautiful Minds, revealing how he came to write The Selfish Gene and speaking about some of the events covered in this autobiography.
In 2013, Dawkins was voted the world's top thinker in Prospect magazine's poll of over 10,000 readers from over 100 countries.
Praise For Why We Believe in God(s)…
"This book about the evolutionary drivers of religiosity would have delighted [Darwin].... One by one the components of religion receive the Thomson treatment. Every point he makes has the ring of truth, abetted by a crisp style and vivid imagery. Andy Thomson is an outstandingly persuasive lecturer, and it shines through his writing. This short, punchy book will be swiftly read—and long remembered."
—Richard Dawkins, author of The God Delusion, from the foreword of Why We Believe in God(s)
"Andy Thomson, with Clare Aukofer, has written a wonderfully concise introduction to our growing scientific understanding of religion. If you would like to learn, in the span of an hour, why we have every reason to believe that God is man-made—this is the book to read."
—Sam Harris, author of the New York Times best sellers The Moral Landscape, Letter to a Christian Nation, and The End of Faith