Fight for Your Long Day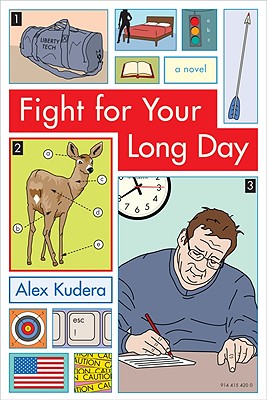 Fight for Your Long Day
Atticus Books, Paperback, 9780984510504, 265pp.
Publication Date: October 1, 2010
* Individual store prices may vary.
Buy Now
or
Shop Local
Enter your zip code below to purchase from an indie close to you.
Description
Fiction. Meet Cyrus Duffleman "Duffy" for short an adjunct professor who can barely afford his two-room apartment. Forget about an unfinished novel: He'd be thrilled with health insurance. Still, he gamely shuffles to four urban universities each day to teach, and works a security guard graveyard shift once a week. Cobbled together, he can almost make a living. But today, Duffy's routine isn't quite so predictable: The cryptic mumblings of a possibly psychotic student. Government protests and a bow-and-arrow assassination. Frenzied attempts to spare his sanity (and safety) all while a female coed quietly eyes him. Part A Confederacy of Dunces (John Kennedy Toole), part Straight Man (Richard Russo), FIGHT FOR YOUR LONG DAY is a promising debut from a new literary talent. It will resonate with anyone who has ever known, been taught by, felt sorry for, or lived the life of an adjunct professor.
About the Author
Alex Kudera has survived a decade of adjunct-teaching overloads but in some circles is better known for his mysterious injuries. He has bussed dishes and tutored English in two countries and fondly recalls writing in museums, parks, and zoos on several continents. A lifelong Philadelphian until fall 2007, Alex currently teaches literature and writing at Clemson University in South Carolina. "Fight for Your Long Day" is his first published novel, but he has promised several more.