America Beyond Capitalism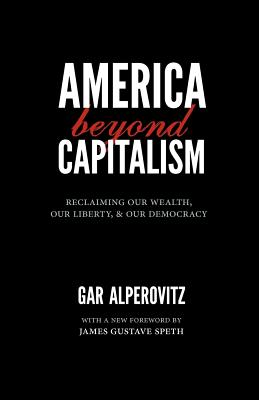 America Beyond Capitalism
Reclaiming Our Wealth, Our Liberty, and Our Democracy
Democracy Collaborative, Paperback, 9780984785704, 321pp.
Publication Date: November 1, 2011
* Individual store prices may vary.
Buy at Local Store
Enter your zip code below to purchase from an indie close to you.
or
Buy Here
About the Author
Gar Alperovitz, Lionel R. Bauman Professor of Political Economy at the University of Maryland, is cofounder of The Democracy Collaborative. He is a former fellow of the Institute of Politics at Harvard and of King's College at Cambridge University, where he received his PhD in political economy. He has served as a legislative director in the U.S. House of Representatives and the U.S. Senate, and as a special assistant in the Department of State. Earlier he was president of the Center for Community Economic Development, Codirector of The Cambridge Institute, and president of the Center for the Study of Public Policy. Dr. Alperovitz's numerous articles have appeared in publications ranging from The New York Times and The Washington Post to The Journal of Economic Issues, Foreign Policy, Diplomatic History, and other academic and popular journals. His previous books are America Beyond Capitalism (a new edition of which appeared in 2011), The Decision to Use the Atomic Bomb, published in 1995, the 2002 book, Making a Place for Community: Local Democracy in a Global Era (with Thad Williamson and David Imbroscio), and the 2008 book Unjust Deserts (with Lew Daly).

James Gustave "Gus" Speth is the former dean of the Yale School of Forestry and Environmental Studies, founder and president of the World Resources Institute, and cofounder of the Natural Resources Defense Council. He has also been administrator of the United Nations Development Programme, chair of the U.N. Development Group, professor of law at Georgetown University, and chair of the U.S. Council on Environmental Quality in the Carter administration. He currently teaches at Vermont Law School, and is a senior fellow at the Democracy Collaborative where he is co-chair of the Next System Project. He is also distinguished senior fellow with Demos, associate fellow with the Tellus Insitute, and the recipient of numerous environmental awards. His previous books includeAmerica the Possible: Manifesto for a New Economy, and the award-winningThe Bridge at the Edge of the World: Capitalism, the Environment, and Crossing from Crisis to Sustainability andRed Sky at Morning: America and the Crisis of the Global Environment.