Petra K and the Blackhearts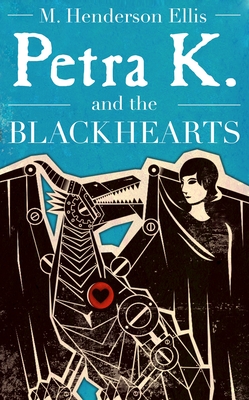 Petra K and the Blackhearts
Young Europe Books, Paperback, 9780985062385, 195pp.
Publication Date: February 4, 2014
* Individual store prices may vary.
Buy Now
or
Shop Local
Enter your zip code below to purchase from an indie close to you.
Description
Welcome to Pava, a city where miniaturized show-dragons are pitted against each other in secret, forbidden tournaments, and magic has been outlawed by a cruel child dictator. Here lives Petra K, the daughter of a shut-in mother, who becomes the master of a dragonka everyone wants to get their hands on. In a complicated world of sorceresses, gypsies, child gangs, and secret police, Petra K needs to decide whom to trust, and whom to betray in order to keep herself and her pet safe. But revolution is in the air, and she too is caught up in its pull. Only the Blackhearts, a gang of orphan children, dare to defy the new dictator's rule, selling potions to survive. Along with the Blackhearts, Petra K faces a murderous pack of mechanical dragonka, a phantom secret agent--and, most harrowing, her own weaknesses. Will the Blackhearts' adventures and courage inspire the terrified population to rise up again, and return Pava to a place of prosperity, where dragonka run free?
"Petra K and the Blackhearts "is the first thrilling book of a trilogy by M. Henderson Ellis, whose previous novel "Booklist" called "a wild, manic ride . . . thoroughly enjoyable.
Praise For Petra K and the Blackhearts…
"Ellis's . . . years living in Eastern Europe give this steampunk fantasy, first in a planned trilogy, a strong sense of place and an unerring ear for the newspeak of totalitarianism. Archibald the Precious, a child dictator known to the Youth Groups that revere him as the 'Number One Play Pal,' takes the reins in Pava, the crumbling city-state in which Petra K lives. . . . Ellis's pacing and plotting abilities show considerable gifts as Petra draws closer to the secret of Archibald's power." — Publishers Weekly

"A breathless . . . adventure pits a poor, fatherless girl against all sides in a battle for a dragon's heart and a city's freedom. . . . Meticulously imagined, Petra's city is built on ancient layers of cultures and traditions, with magic woven into its fabric. . . .[A] remarkable and distinctive offering for devoted fantasy fans." —Kirkus Reviews

"This marks the first in a series aimed to reinvigorate the 'Old World,' and its strength lies in its sense of place, as Pava's twisting alleyways have the feel of ancient Venice, where any shadow might conceal a thief or a bit of magic. . . . [F]or readers looking for a light mystery with a dash of fantasy, this book will open the door to an imaginative world." — BooklistOnline.com


"If you're ready to go take a walk on the wildside and meet creatures you haven't even imagined before, this is the book to take you there.  You might want to read it during the day... Happy reading." — Jo Ann Hakola, Independent Online Booksellers Association

"Mocked at school and neglected at home, young Petra K finds sanctuary in the streets of Pava, where forbidden magic is still practiced, mechanized automatons hawk their wares, and miniature dragons run wild. . . . The blend of magic and machinery is eerily intriguing, much as in William Alexander's Goblin Secrets. Petra K is a stalwart but accessible heroine—her struggles with her friends and her mother give her immediate appeal while her transformation from schoolgirl to revolutionary is authentically bumpy, occurring in fits and starts as she is plagued by doubts and miscalculations.  . . . [S]haring this as a classroom or family readaloud may . . . spur some thoughtful discussion about love, loss, and loyalty." --Bulletin of the Center for Children's Books