Endgame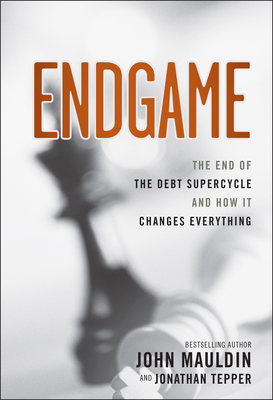 Endgame
The End of the Debt Supercycle and How It Changes Everything
John Wiley & Sons, Hardcover, 9781118004579, 318pp.
Publication Date: March 8, 2011
* Individual store prices may vary.
Buy at Local Store
Enter your zip code below to purchase from an indie close to you.
or
Not Currently Available for Direct Purchase
Description
Greece isn't the only country drowning in debt. The Debt Supercycle--when the easily managed, decades-long growth of debt results in a massive sovereign debt and credit crisis--is affecting developed countries around the world, including the United States. For these countries, there are only two options, and neither is good--restructure the debt or reduce it through austerity measures. "Endgame" details the Debt Supercycle and the sovereign debt crisis, and shows that, while there are no good choices, the worst choice would be to ignore the deleveraging resulting from the credit crisis. The book: Reveals why the world economy is in for an extended period of sluggish growth, high unemployment, and volatile markets punctuated by persistent recessions Reviews global markets, trends in population, government policies, and currencies
Around the world, countries are faced with difficult choices. "Endgame" provides a framework for making those choices.
About the Author
JOHN MAULDIN is President of Millennium Wave Investments. Mauldin has established himself as a savvy observer of the economy and investment arena. Over one million loyal readers receive his thoughtful weekly views on the economy and the markets. He has more than twenty years' experience in the investment arena, with a wide array of responsibilities. He is a recognized investment expert, particularly on the subject of hedge funds and alternative investments. A sought-after speaker, he is frequently quoted in the financial press throughout the world and broadcast media. Mauldin works out of offices overlooking right field of The Ballpark in Arlington, the home of the Texas Rangers. For more information on John, see the "About the Author" section of this book or log on to www.johnmauldin.com.

Jonathan Tepper is the Chief Editor of Variant Perception (www.variantperception.com), a macroeconomic research group that caters to hedge funds, banks, and family offices. He is the coauthor, with John Mauldin, of Endgame: The End of the Debt Supercycle, a book on the sovereign debt crisis. Jonathan has worked as an equity analyst at SAC Capital and as a Vice President in proprietary trading at Bank of America. In addition, he is a founder of Demotix, a citizen-journalism website and photo agency which he sold in 2012 to Corbis, a Bill Gates-owned company. In 2012, Jonathan was a finalist for the Wolfson Economics Prize, an open challenge for economists to find the most efficient and least disruptive way to break up the euro. Jonathan is an American Rhodes Scholar. He lives in London but travels frequently to the U.S., Europe, and Asia to speak at conferences. He earned a BA with highest honors in economics and history from the University of North Carolina at Chapel Hill, and an MLitt in modern history from Oxford University.