The End of Business as Usual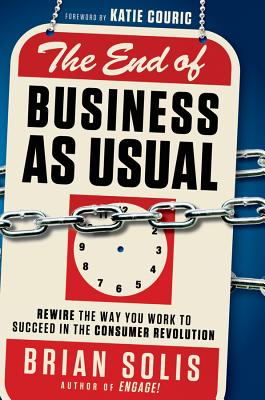 The End of Business as Usual
Rewire the Way You Work to Succeed in the Consumer Revolution
John Wiley & Sons, Hardcover, 9781118077559, 304pp.
Publication Date: October 18, 2011
* Individual store prices may vary.
Buy at Local Store
Enter your zip code below to purchase from an indie close to you.
or
Buy Here
Description
It's a new era of business and consumerism--and you play a role in defining it
Today's biggest trends--the mobile web, social media, real-time--have produced a new consumer landscape. "The End of Business As Usual" explores this complex information revolution, how it has changed the future of business, media, and culture, and what you can do about it.
"To be successful in business, you need to see what others don't. Start with this book. Someone's going to do it, why not you?" --Mark Cuban, owner of the Dallas Mavericks and Chairman of HDNet
"Innovation has always changed the business landscape. People expect to access information anywhere, anytime, and on any device. Collaborative, cloud, and video technologies are leading this change. As Mr. Solis correctly writes, companies have to lead this change, not follow." --John Chambers, CEO of Cisco Systems, Inc.
"Winning the hearts and minds of customers with new media experiences will turn them into your most valuable sales force. Solis's book is the map to unleash this treasure." --Peter Guber, author of "Tell to Win: Connect, Persuade, and Triumph with the Hidden Power of Story"
"Your customers will share their experiences both good and bad. Now that everyone is connected, it's amplified and incredibly influential. This book will help you rethink your vision and mission to survive in a new era of digital Darwinism." --Mark Burnett, Television Executive Producer.
About the Author
Brian Solis is Principal of FutureWorks, an award-winning PR agency in Silicon Valley. Solis blogs at PR2.0, bub.blicio.us, and regularly contributes PR and tech comments and articles to industry sites and publications. Solis is co-founder of the Social Media Club, is an original member of the Media 2.0 Workgroup, and also is a contributor to the Social Media Collective. Solis has been actively writing about new PR and the idea of PR 2.0 since the mid 90s to discuss how the Web was redefining the communications industry. He is considered an expert in traditional PR, media relations, and also Social Media. He has dedicated his free time to helping PR professionals adapt to the new fusion of PR, Web marketing, and community relations. Brian is ranked in the Ad Age Power 150 index of leading marketing bloggers.