Get Lucky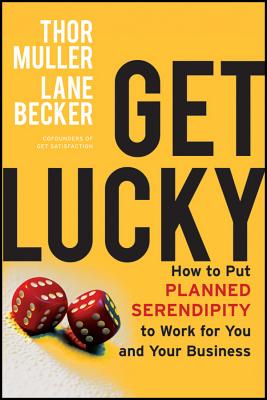 Get Lucky
How to Put Planned Serendipity to Work for You and Your Business
Jossey-Bass, Hardcover, 9781118249758, 288pp.
Publication Date: April 2012
* Individual store prices may vary.
Buy Now
or
Shop Local
Enter your zip code below to purchase from an indie close to you.
Description
A guide to getting luck on your side
As the pace of change accelerates and the volume of information explodes, we're under great pressure to connect just in time with the people and ideas we need to thrive. But we can no longer plan our way to success--there will always be factors beyond our control. This uncertainty, however, cultivates one of today's key drivers of success: serendipity. More than blind luck, serendipity can produce quantifiable results: breakthrough ideas, relationships that matter, effortless cooperation, synchronized market timing, and more. "Get Lucky" shows businesses how to succeed by fostering the conditions for serendipity to occur early and often. Distills planned serendipity into eight key elements: preparedness, motion, activation, attraction, connection, commitment, porosity, and divergence Features stories of serendipity in action at well-known companies including Avon, Target, Steelcase, Google, Facebook, Walmart, and more Written by serial entrepreneurs and cofounders of Get Satisfaction, a breakout platform for online customer service communities with over 100,000 clients
Planned serendipity is not an abstract, magical notion, but a practical skill. "Get Lucky" is the indispensable resource for anyone who wants to learn this skill and to make serendipity work for "them.