Risky Is the New Safe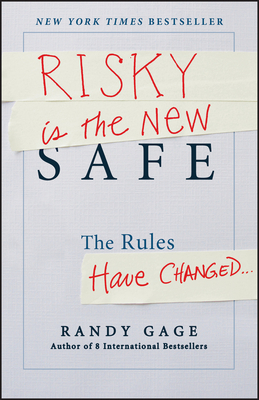 Risky Is the New Safe
The Rules Have Changed... a Rock Opera
John Wiley & Sons, Hardcover, 9781118481479, 143pp.
Publication Date: October 23, 2012
* Individual store prices may vary.
Buy at Local Store
Enter your zip code below to purchase from an indie close to you.
or
Not Currently Available for Direct Purchase
Description
THE NEW YORK TIMES BESTSELLER and #1 WALL STREET JOURNAL BESTSELLER
"Risky Is the New Safe" is a different kind of book for a different kind of thinking--a thought-provoking manifesto for risk takers. It will challenge you to think laterally, question premises, and be a contrarian.
Disruptive technology, accelerating speed of change and economic upheaval are changing the game. The same tired, old conventional thinking won't get you to success today. "Risky Is the New Safe" will change the way you look at everything You'll view challenges--and the corresponding opportunities they provide--in entirely new and exciting ways. You'll recognize powerful new gateways to creating wealth.
In this mind-bending book you'll discover: How mavericks like Steve Jobs, Richard Branson, and Mark Cuban think differently--and what you can learn from them; The six-month online course that could allow you to earn more than a Ph.D.; How social media changes branding and marketing forever, and what that means for you; What happens when holo-suites and virtual-reality sex come about, and how you need to prepare; The new religion of ideas: How to become an "idea generator" and declare as a free agent; and, What will cause the Euro, precious metals, and oceanfront real estate to collapse--and how that can make you rich.
About the Author
Tom Marcoux helps people like you fulfill big dreams. Known as America's Communication Coach and TFG Thought Leader, Tom has authored 26 books and 21 audio programs with sales in 15 countries. One of his books rose to #1 on Amazon.com Hot New Releases in Business Life (and in Business Communication). He guides clients and audiences (IBM, Sun Microsystems, etc.) to success in job interviewing, public speaking, media relations, and branding. Known as the Spoken Word Strategist, and as a member of the National Speakers Association, he is a professional coach and guest expert on TV, radio, and print, and was dubbed "the Personal Branding Instructor" by the San Francisco Examiner. Tom addressed National Association of Broadcasters' Conference six years running. With a degree in psychology, Tom has guest lectured at Stanford University, DeAnza College, and California State University, and teaches public speaking, business communication and comparative religion at Academy of Art University. Using Tom's public speaking methods, one of his graduate students won the Charles Schwab Scholarship. Tom's innovative coaching includes Dynamic Rehearsal/Role-playing and Power Rehearsal for Crisis. He also guides clients with "The Charisma Advantage that Saves You Time." Winner of a special award at the Emmys, Tom wrote, directed, and produced a feature film that went to Cannes film market, where it gained international distribution. He is engaged in the graphic novels/feature film projects Jack AngelSword (fantasy-thriller); Crystal Pegasus (children's fantasy); and TimePulse (science fiction). Visit Tom's popular blog at www.BeHeardandBeTrusted.com. Tom's slogan: "Take command, focus your brand."