The Way You Do Anything Is the Way You Do Everything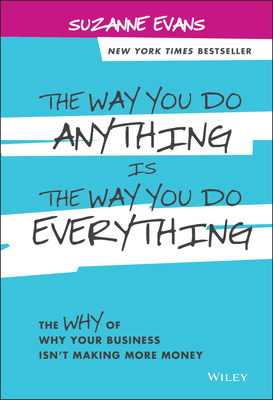 The Way You Do Anything Is the Way You Do Everything
The Why of Why Your Business Isn't Making More Money
Wiley, Hardcover, 9781118714263, 192pp.
Publication Date: February 3, 2014
* Individual store prices may vary.
Buy Now
or
Shop Local
Enter your zip code below to purchase from an indie close to you.
Description
Why your business isn't succeeding and what you can do about it
While business consultants are having you scour over profit and loss statements, the real truth is businesses don't fail; people quit. "The Way You Do Anything Is the Way You Do Everything" offers a realistic, sarcastic, and fiercely honest look at how business owners fail to commit. Business success is all about mindset, and author Suzanne Evans helps you uncover your goals and blast away the obstacles that are standing in your way. She offers ways to make more money, more quickly and eliminate everything that doesn't work. Offers specific daily practices to make more money even when every odd is stacked against you Delivers the road map to abandon a job you hate and follow your professional dreams Author Suzanne Evans went from a secretary to seven figure success, and her story has helped her to mentor thousands to change their lives, businesses, and finances forever
Take complete control over your life, build wealth faster, and create a business that not only makes money but also makes a difference.
About the Author
Suzanne Evans is a former divorce lawyer and business/sports reporter who holds a PhD in history from UC Berkeley. Her work has appeared in "The" "New York Times", the "Los Angeles Times", the "Los Angeles Business Journal", " "and other national publications. She is also a freelance writer for The History Channel website and the creator of "The History Chef", a popular food history blog (LincolnsLunch.blogspot.com). She lives in Newport Beach, California, with her husband and four young children.