The Value of Debt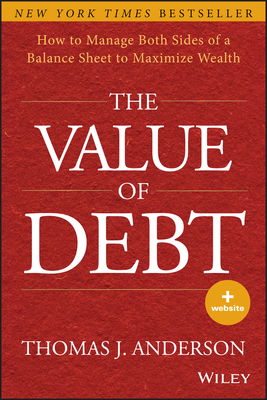 The Value of Debt
How to Manage Both Sides of a Balance Sheet to Maximize Wealth
Wiley, Hardcover, 9781118758618, 272pp.
Publication Date: September 16, 2013
* Individual store prices may vary.
Buy Now
or
Shop Local
Enter your zip code below to purchase from an indie close to you.
Description
A "New York Times" bestseller and one of the Ten Best Business Books of 2013 by "WealthManagement.com," this book brings a new vision of the value of debt in the management of individual and family wealth
In this groundbreaking book, author Tom Anderson argues that, despite the reflex aversion most people have to debt--an aversion that is vociferously preached by most personal finance authors--wealthy individuals and families, as well as their financial advisors, have everything to gain and nothing to lose by learning to think holistically about debt.
Anderson explains why, if strategically deployed, debt can be of enormous long-term benefit in the management of individual and family wealth. More importantly, he schools you in time-tested strategies for using debt to steadily build wealth, to generate tax-efficient retirement income, to provide a reliable source of funds in times of crisis and financial setback, and more. Takes a "strategic debt" approach to personal wealth management, emphasizing the need to appreciate the value of "indebted strengths" and for acquiring the tools needed to take advantage of those strengths Addresses how to determine your optimal debt ratio, or your debt "sweet spot" A companion website contains a proprietary tool for calculating your own optimal debt ratio, which enables you to develop a personal wealth balance sheet
Offering a bold new vision of debt as a strategic asset in the management of individual and family wealth, "The Value of Debt" is an important resource for financial advisors, wealthy families, family offices, and professional investors.
About the Author
Tom Anderson a native of Montana and longtime Florida resident, is professor and former chair in the Department of Art Education at Florida State University in Tallahassee. He also has worked as a public school art teacher in Oregon and as a commercial artist in Chicago. He has written more than seventy articles, reviews, and book chapters and is the author of one other book, Real Lives: Art Teachers and the Cultures of School. He was cofounder, in 1995, and is still a member of the International Advisory Committee of the Children's Guernica Peace Mural Project. His international teaching and service includes stints in Italy, Spain, Kuwait, and Japan; talks to international audiences in Taiwan, Korea, Canada, and Australia; and service in the International Baccalaureate Program in Wales, Italy, Canada, and the United States. Over the course of his career, Dr. Anderson has been particularly interested in the social foundations of art and education, as well as art criticism and aesthetic inquiry, especially in art for life. He is married to Mary Beth McBride and has two adult daughters, Carrie and Amelia.
Melody K. Milbrandt is an associate professor and coordinator of art education at Georgia State University in Atlanta. She taught art in public schools (K-12) for eighteen years before moving to higher education in 1996. Throughout her teaching career she has been active in state and national art education association, providing approximately, fifty workshops and presentations at professional meetings. These presentations have addressed her long-standing interests in creativity, cognitive abilities, and social issues in the art classroom. Her dissertation, "An Authentic Instructional Model for Fifth Grade Art using Postmodern Content", was awarded a J. Paul Getty Fellowship in 1995. Since then she has written a number of articles, reviews, and book chapters on a variety of topics related to contemporary issues in art education. Her current teaching and research interests include the role of art criticism and aesthetics in a multicultural setting. Dr. Milbrandt is a past president of the Kansas Art Education Association and was honored as Elementary Art Educator of the Year in Both Kansas and Georgia. She is active in the Georgia Art Education Association and received the Southeastern Region Higher Education Award for 2004. She and her husband, Dr. Lanny Milbrandt, have four adult children and five grandchildren. Her studio interest is mixed-media painting.