Obama and the Middle East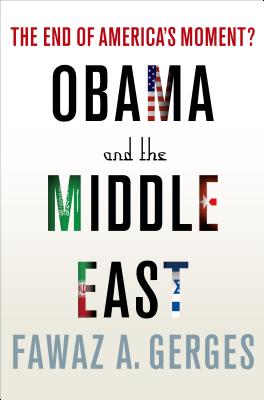 Obama and the Middle East
The End of America's Moment?
Palgrave MacMillan, Paperback, 9781137278395, 292pp.
Publication Date: July 16, 2013
* Individual store prices may vary.
Buy Now
or
Shop Local
Enter your zip code below to purchase from an indie close to you.
Description
Published to widespread media acclaim, Fawaz Gerges's work takes on the past, present, and future of the United States' relationship with the Middle East. Gerges, one of the world's top Middle East scholars, examines the US Middle East relationship Obama has inherited, analyzes the administration's responses to the challenges it has faced, and highlights what must change in order to improve US outcomes in the region. Evaluating the president's engagement with the Arab Spring, his decision to order the death of Osama bin Laden, his intervention in Libya, and his relations with Iran, Gerges reaches a sobering conclusion: the United States is near the end of its moment in the Middle East. The cynically realist policy it has employed since World War II and that the Obama administration has continued is at the root of current bitterness and mistrust, and it is time to remake American foreign policy.
About the Author
Fawaz A. Gerges is a Professor of International Relations at the London School of Economics and Political Science, where he directs the Middle East Centre. Gerges is the author of several acclaimed books, including Obama and the Middle East: The End of America's Moment?, The Rise and Fall of Al Qaeda and The Far Enemy: Why Jihad Went Global. He has written extensively on Arab politics and the international relations of the Middle East. His articles have appeared in Foreign Affairs, Foreign Policy, Newsweek, the New York Times, the Washington Post, the Guardian, the Independent and many other publications.
Praise For Obama and the Middle East…
"Sensible recommendations are woven through every chapter of the book for the next US administration" - YaleGlobal Online

"For students of the region, journalists, policy-makers, or others interested in developing a nuanced understanding of US foreign policy towards the Middle East today, at a time when the sun seems to be setting on the US' 'unipolar moment', Fawaz Gerges' Obama and the Middle East could not have come at a better time." - LSE Review of Books

"In a thorough and clear manner, Gerges takes the reader through each of the major challenges the Obama administration has had to face in the Middle East, highlighting where the man of 'hope' and 'change' failed, and where the president has simply been a prisoner of history." - Middle East Policy Council