Archduke Franz Ferdinand Lives!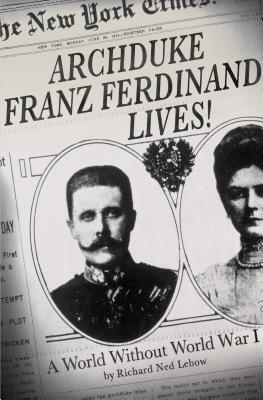 Archduke Franz Ferdinand Lives!
A World Without World War I
Palgrave MacMillan, Hardcover, 9781137278531, 248pp.
Publication Date: January 7, 2014
* Individual store prices may vary.
Buy at Local Store
Enter your zip code below to purchase from an indie close to you.
or
Buy Here
Description
The "Great War" claimed nearly 40 million lives and set the stage for World War II, the Holocaust, and the Cold War. One hundred years later, historians are beginning to recognize how unnecessary it was. In Archduke Franz Ferdinand Lives , acclaimed political psychologist Richard Ned Lebow examines the chain of events that led to war and what could reasonably have been done differently to avoid it. In this highly original and intellectually challenging book, he constructs plausible worlds, some better, some worse, that might have developed. He illustrates them with "what-if" biographies of politicians, scientists, religious leaders, artists, painters, and writers, sports figures, and celebrities, including scenarios where: there is no Israel; neither John Kennedy nor Barack Obama become president; Curt Flood, not Jackie Robinson, integrates baseball; Satchmo and many Black jazz musicians leave for Europe, where jazz blends with klezmer; nuclear research is internationalized and all major countries sign a treaty outlawing the development of atomic weapons; Britain and Germany are entrapped in a Cold War that threatens to go nuclear; and much more.
About the Author
Richard Ned Lebow is James O. Freedman Presidential Professor at Dartmouth College and Centennial Professor at the London School of Economics and Political Science. Among other books, he is the author of A Cultural Theory of International Relations (Cambridge University Press, 2008) which won the 2009 American Political Science Association Jervis and Schroeder Award for the Best Book on International History and Politics as well as the British International Studies Association Susan Strange Book Prize for the Best Book in International Studies, and The Tragic Vision of Politics (Cambridge University Press, 2003) which won the 2005 Alexander George Book Award of the International Society for Political Psychology.
Praise For Archduke Franz Ferdinand Lives!…
One of the 7 Books You Should Own —Belfast Telegraph
"Lebow persuasively argues that the outbreak of world war was contingent on the assassination of Franz Ferdinand…. So, what if there had been no First World War? Lebow imagines the best and worst plausible worlds…. These forays are fun." —The Times (London)
"Richard Ned Lebow is a prolific political scientist who uses counter-factual hypotheses to illuminate the possibilities of a far from simple situation in Archduke Franz Ferdinand Lives!" —Financial Times
"A well-written, thought-provoking read, particularly for people with a keen interest in modern history." —Discover Your History magazine
"A curious look at an alternative history." —Your Family Tree magazine
"Lebow's 'counterfactual' worlds are fascinating… This is an entertaining and plausible series of 'what-ifs' that makes us pause and consider the contingency of what we are pleased to call the real world." —New Internationalist magazine
"The thought-experiments in Archduke Franz Ferdinand Lives! serve purposes on multiple levels. At its core, Alternate History has always been an intriguing chance to ponder "what if?" Through Lebow's work, we may see further through analysis that we can apply to our own world and judge our own trends in culture, and science, and political leadership." —BlogCritics
"Lebow has written a sharp… work that many with an interest in the first world war will enjoy. As well as providing a "what-if" analysis of a world without the conflict, Archduke Franz Ferdinand Lives! invites us to reflect in new and unexpected ways on the connectedness of things – and on the unpredictability of history." —The Observer
"Astute, challenging exercises in consequence and contingency." —Kirkus Reviews
"Though we can't escape the realities of our past, Lebow provides his readers with exciting alternatives to consider" —Publishers Weekly
"What if WWI had never happened? No Nazis, no Bolsheviks, no Holocaust, no WWII, no Cold War, perhaps no nuclear weapons. Then again: Kaiser and Tsar would have ruled  the 20th century, holding back democracy and decolonization. A century of peace would have delayed war-related inventions like radar, penicillin, nuclear energy, long-distance air travel, computers. Without frenzied industrialization in the service of war, no Black mass migration to the North - and neither civil rights nor Obama. Ned Lebow has produced the most sophisticated "what-if" history in many years. Read this fascinating book to jog your mind and to understand the worst and best century in world history - why we are where we are now." —Josef Joffe, Publisher-Editor of Die Zeit, and Distinguished Fellow, Stanford University
"An extraordinary counterfactual book.… The playful alternatives that Ned Lebow so cleverly constructs have a serious purpose in helping to explain the failures and success of the 20th Century." —Sir Richard Dearlove KCMG, OBE, former head of MI6 and Master of Pembroke College, Cambridge
"If you ever had doubts about why the assassination of Archduke Franz Ferdinand and his wife so changed our lives, you won't after reading Richard Ned Lebow's prodigy of historical speculation.  Can there be a book that better explains why the counterfactual matters?" —Robert Cowley, editor of the WHAT IF? Series
"This is a thoughtful, insightful and provocative study which will intrigue a broad range of readers. Ned Lebow's impressive deconstruction of the events leading to World War I and its shattering consequences is a timely reminder that policy decisions  based on linear predictions are often wrong and that contingencies and the unexpected must be considered very carefully by policy makers before pursuing the path to war. That lesson is particularly relevant today and Lebow is to be congratulated for presenting it so effectively." —Kenneth S. Yalowitz, US Ambassador (ret.)