Nonbeliever Nation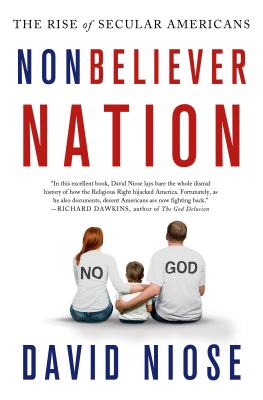 Nonbeliever Nation
The Rise of Secular Americans
Palgrave MacMillan, Paperback, 9781137278715, 262pp.
Publication Date: December 17, 2013
* Individual store prices may vary.
Buy at Local Store
Enter your zip code below to purchase from an indie close to you.
or
Buy Here
Description
Today, one in five Americans are nonbelievers a rapidly growing group at a time when traditional Christian churches are dwindling in numbers. Still we see almost none of them openly serving in elected office, while Mitt Romney, Rick Santorum, and many others continue to loudly proclaim the falsehood of America as a Christian nation. In "Nonbeliever Nation," leading secular advocate David Niose calls for nonreligious Americans from all backgrounds to step out of the shadows and signal their opposition to the long-dominant Religious Right. Exploring all the hot-button issues that divide the country from gay marriage to education policy to contentious church-state battles he shows how Secular Americans a group comprised not just of atheists and agnostics, but lapsed Catholics, secular Jews, and millions of others who have walked away from organized religion are mobilizing and forming groups all over the country (even atheist clubs in Bible-belt high schools) to challenge the exaltation of religion in American politics and public life. This is a timely and important look at a growing demographic that is flexing its muscles for the first time.
About the Author
David Niose has spent the last decade immersed in secular-progressive politics and the culture wars. He has served as president of two Washington-based advocacy groups the American Humanist Association and the Secular Coalition for America and litigated cases across the country on behalf of church-state separation and equal rights. He is the author of "Nonbeliever Nation: The Rise of Secular Americans", as well as the popular Psychology Today blog "Our Humanity, Naturally," and has been featured on Fox News, MSNBC, the Associated Press, The National Journal, Christian Science Monitor, BBC, and many other media outlets. He is currently Legal Director of the American Humanist Association.