American Panic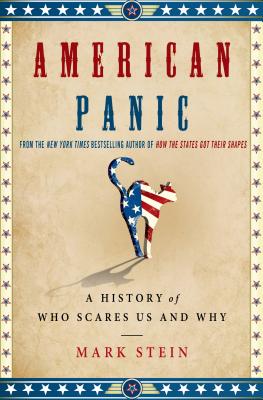 American Panic
A History of Who Scares Us and Why
Palgrave MacMillan, Hardcover, 9781137279026, 275pp.
Publication Date: May 20, 2014
* Individual store prices may vary.
Buy at Local Store
Enter your zip code below to purchase from an indie close to you.
or
Buy Here
Description
In "American Panic ," "New York Times "bestselling author Mark Stein traces the history and consequences of American political panics through the years. Virtually every American, on one level or another, falls victim to the hype, intensity, and propaganda that accompanies political panic, regardless of their own personal affiliations. By highlighting the similarities between American political panics from the Salem witch hunt to present-day vehemence over issues such as Latino immigration, gay marriage, and the construction of mosques, Stein closely examines just what it is that causes us as a nation to overreact in the face of widespread and potentially profound change. This book also devotes chapters to African Americans, Native Americans, Catholics, Mormons, Jews, Chinese and Japanese peoples, Communists, Capitalists, women, and a highly turbulent but largely forgotten panic over Freemasons. Striking similarities in these diverse episodes are revealed in primary documents Stein has unearthed, in which statements from the past could easily be mistaken for statements today. As these similarities come to light, Stein reveals why some people become panicked over particular issues when others do not.
About the Author
Mark A. Stein: With a finance education from the George Washington University School of Business in 1990, and subsequent professional service experience as a foundation, Mark entered the management consulting industry in 1995, and has since led hundreds of corporate strategy, investment analysis and organization development engagements for leading multi-national corporations. Mark speaks at Organization Development and onboarding conferences. He is married with three kids and lives in Bethesda, MD.
Lilith Christiansen: Lilith has 15 years of organization development consulting experience with Kaiser Associates and Booz Allen Hamilton. Lilith has led numerous organizational improvement and employee programs redesign projects for clients in both public and private sectors. Lilith is a graduate of University of Virginia and University of Pennsylvania's Wharton School of Business. Lilith is married, has two children and lives in Arlington, VA.
Visit the authors' website for more information http: //onboardingmargin.com.
Praise For American Panic…
"If there is an American cultural DNA - Mark Stein is the guy who most ably picks apart the strands that tell us who we are -- and in this case, what scares us and why -- and puts them and ultimately us under a microscope for a rarefied, compelling, and unforgettable view." —Brian Unger, Writer, TV Host, Actor "How refreshing!  Mark Stein does not look at our history through the familiar prism of presidents, battles, and laws; instead he uncovers and relates the behavior and fears of the populace that too often has set the course of history. A wonderful read filled with lessons so needed now." —Stanley Kutler, Author The Wars of Watergate "American Panic is a learned romp through American history, and the persistent bad habit a strong and free people has of worrying about other people. Mark Stein's careful research demonstrates how successive panics, over witches, Indians, Masons, Chinese, Socialists, Latinos, Muslims and more, share a kind of DNA of hysteria. Stein's work is a sobering reminder of who we were and who we are. American Panic is edifying, entertaining and important." —Ray Suarez, Al Jazeera America, and author of Latino Americans: The 500 -ear Legacy That Shaped a Nation "Through compelling narrative and intriguing research, Mark Stein shines a beacon into the midnight of the American soul and shows us what our deepest fears say about ourselves as individuals and as a people. The psychological gap between the ideal and reality of E Pluribus Unum is Stein's theme, and he limns it with original and fascinating insight." —Mark Olshaker, coauthor of Law & Disorder, Mindhunter, and The Cases That Haunt Us; novelist and documentary filmmaker