Raiders!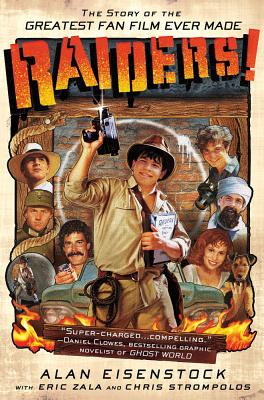 Raiders!
The Story of the Greatest Fan Film Ever Made
Thomas Dunne Books, Hardcover, 9781250001474, 306pp.
Publication Date: November 13, 2012
* Individual store prices may vary.
Not Currently Available for Direct Purchase
or
Shop Local
Enter your zip code below to purchase from an indie close to you.
Description
In 1982, in Ocean Springs, Mississippi, Chris Strompolos, eleven, asked Eric Zala, twelve, a question: "Would you like to help me do a remake Raiders of the Lost Ark? I'm playing Indiana Jones."
And they did it. Every shot, every line of dialogue, every stunt.
They borrowed and collected costumes, convinced neighborhood kids to wear grass skirts and play natives, cast a fifteen-year-old as Indy's love interest, rounded up seven thousand snakes (sort of), built the Ark, the Idol, the huge boulder, found a desert in Mississippi, and melted the bad guys' faces off.
It took seven years.
Along the way, Chris had his first kiss (on camera), they nearly burned down the house and incinerated Eric, lived through parents getting divorced and remarried, and watched their friendship disintegrate.
Alan Eisenstock's "Raiders " is the incredible true story of Eric Zala and Chris Strompolos, how they realized their impossible dream of remaking Raiders of the Lost Ark, and how their friendship survived all challenges, from the building of a six-foot round fiberglass boulder to the devastation of Hurricane Katrina.
About the Author
Alan Eisenstock, a sports talk radio fan since the early 1970s, is the co-author of "Inside the Meat Grinder: An NFL Official's Life in the Trenches." His numerous television writing credits include "Married...With Children, Mork and Mindy, Sanford and Son, Family Matters, What's Happening", and "Sanford and Son, Family Matters, What's Happening", and "The Nanny". He lives with his family in southern California.




Praise For Raiders!…
"The mother of all fan movies." –The Los Angeles Times


"Alan Eisenstock's Raiders! is a fantastic, magical book…I can't recommend this book any higher, it's amazing and deserves to be read by anyone even remotely interested in film or fandom. Read it!"
—unitedmonkey.com

"Before the age of Final Cut Pro and laptop editing, these resourceful kids created all their own costumes and effects, performed their own stunts (including the boulder scene), wrangled the actors, and eventually grew into young men."
—Seattle Weekly

"Raiders! is much more than just the story of some kids making a fan film. It's about the best and worst of childhood and growing up and sharing a geeky obsession through the whole journey. It's intense and enjoyable and heartbreaking and powerful."
—Wired magazine's GeekDad Blog

"The legend of two young superfans' seven-year odyssey remaking Raiders of the Lost Ark lives in Alan Eisenstock's colossally cool Raiders!"
—Vanity Fair

"A super-charged (parents: read with caution!) mini-epic that replaces Hollywood dazzle with something far more compelling: the agony and ecstasy of raw adolescent delirium"
—Daniel Clowes (Ghost World)

"The ingenuity that went into the production [of the film] was astounding…. But the book really shines in its emotional wallop."
—The Hollywood Reporter

"Here's a making-of book about the production of the coolest movie you might never see. Back in the early 1980s, when Raiders of the Lost Ark was still in theaters, a couple of kids (Eric Zala, 12, and Chris Strompolos, 11, decided to remake the movie, using a borrowed camera, a cast of friends, and as much realism and accuracy as they could muster. They figured they could do it during their summer vacation; it took seven summer vacations. This is a magnificent book. Eisenstock gives it a real let's-put-on-a-show feel; fans of the recent movie Super 8 will note a definite similarity in tone, pacing, and sheer gosh-wow excitement. These guys weren't just making a half-assed tribute to their favorite movie; this was supposed to be a shot-for-shot remake, using the actual script (obtained by sneaking into the movie and recording it on the sly), with music, sound effects, and visual effects (Eric set himself on fire to replicate the burningbar scene). And think about some of the scenes they were trying to replicate: the escape from the snakeinfested Well of Souls, the truck chase, a villain's exploding head, melting faces, and the famous boulder sequence. Sure, there were compromises—a scene near the beginning replaced a biplane with a dinghy with an outboard motor (because who would give a couple of kids an actual biplane?)—but the thing is, they got the movie made. At a nearly catastrophic cost, to be sure—the account also chronicles the postproduction meltdown of Eric and Chris' friendship—but they did it. An amazing, one-of-a-kind book about a triumphant, one-of-a-kind film production."
—Booklist (starred)

"Swift, compelling reading"
—TheSubStream.com

"An excellent read and is just a fun book…Perfect for the entire family and a must own for anyone that is a fan of the Raiders franchise. I cannot recommend this book more highly!"
—Fort Bend Southwest Star Newspaper

"One of the best books I've read all year."
—Susan Spann of the Debutante Ball blog