Death at Seaworld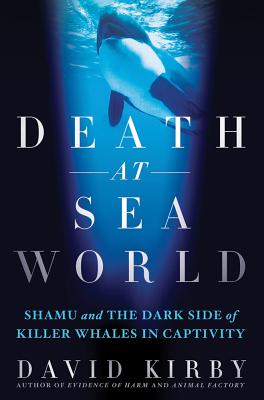 Death at Seaworld
Shamu and the Dark Side of Killer Whales in Captivity
St. Martin's Press, Hardcover, 9781250002020, 469pp.
Publication Date: July 17, 2012
* Individual store prices may vary.
Buy at Local Store
Enter your zip code below to purchase from an indie close to you.
or
Not Currently Available for Direct Purchase
Description
From the "New York Times" bestselling author of "Evidence of Harm" and "Animal Factory "a groundbreaking scientific thriller that exposes the dark side of SeaWorld, America's most beloved marine mammal park
"Death at SeaWorld" centers on the battle with the multimillion-dollar marine park industry over the controversial and even lethal ramifications of keeping killer whales in captivity. Following the story of marine biologist and animal advocate at the Humane Society of the US, Naomi Rose, Kirby tells the gripping story of the two-decade fight against PR-savvy SeaWorld, which came to a head with the tragic death of trainer Dawn Brancheau in 2010. Kirby puts that horrific animal-on-human attack in context. Brancheau's death was the most publicized among several brutal attacks that have occurred at Sea World and other marine mammal theme parks.
"Death at SeaWorld" introduces real people taking part in this debate, from former trainers turned animal rights activists to the men and women that champion SeaWorld and the captivity of whales. In section two the orcas act out. And as the story progresses and orca attacks on trainers become increasingly violent, the warnings of Naomi Rose and other scientists fall on deaf ears, only to be realized with the death of Dawn Brancheau. Finally he covers the media backlash, the eyewitnesses who come forward to challenge SeaWorld's glossy image, and the groundbreaking OSHA case that
challenges the very idea of keeping killer whales in captivity and may spell the end of having trainers in the water with the ocean's top predators.
About the Author
David Kirby is the Robert O. Lawton Distinguished Professor of English at Florida State University. His many books range from poetry to an appreciation of Little Richard and his awards include Guggenheim and NEA Fellowships. Most recently he is the author of THE TEMPLE GATE CALLED BEAUTIFUL (Alice James Books, 2008), The House on Boulevard St.: New and Selected Poems, and A WILDERNESS OF MONKEYS (Hanging Loose Press, 2014). He has been a finalist for the National Book Award.
Praise For Death at Seaworld…
"Kirby makes a passionate case for captivity as the reason orcas become killers (and) tells the story like a thriller… We probably can't free the orcas in captivity today, but we could make the current group of captive killer whales the last." --Wall Street Journal

"A chilling depiction… Kirby lays out a compelling scientific argument against killer whale captivity"–New Scientist

"A gripping inspection… Hard to put down."--Booklist (***Starred Review)

"Brilliantly and intensively researched and conveyed with clarity and thoughtfulness, Kirby's work of high-quality non-fiction busts the whale debate wide open… Reads like a thriller and horrifies like Hannibal Lector." --San Francisco Book Review – FIVE STARS

"Kirby places this much-publicized tragic incident within the context of decades of warnings by marine biologists and animal advocates about the risks of keeping these giant predators in captivity. A real-life scientific thriller." --Barnes and Noble

"As David Kirby so eloquently documents in this timely work, killer-whale captivity only benefits the captors. It is impossible to read 'Death at SeaWorld' and come to any other conclusion." - Jane Goodall, Ph.D., D.B.E., Founder, the Jane Goodall Institute, UN Messenger of Peace

"Entertaining, engaging and enraging - The fairy tale fantasy that the captivity marine mammal industry has spun for the unwary public is expertly unraveled in this non-fiction crime thriller." - Louie Psihoyos, Academy Award winning director of The Cove

"In this authoritative and superbly investigative page-turner, certain to ruffle feathers and fins, David Kirby … reports brilliantly on the escalating troubles and conflicts, the surprising and sordid underbelly of life — and death — at SeaWorld."- Erich Hoyt, author of the best-selling classic Orca: The Whale Called Killer

"Death at SeaWorld is one of the most important books, if not the most important book, ever written on the horrific plight of captive cetaceans. Kirby systematically dismantles the arguments used to justify keeping these incredibly intelligent and sentient beings in aquatic cages. - Marc Bekoff, University of Colorado, author of The Emotional Lives of Animals

"This is a book everyone should read… David Kirby's 'Death at SeaWorld' outlines in grim detail just how bad captivity is for orcas and other marine mammals."- Richard O'Barry, Director of Earth Island Institute's Dolphin Project and star of The Cove

"At last, both sides of the story behind the events at SeaWorld are being told and the truth is finally getting out there. Every budding orca trainer should consider this the must-read book of their career."
-Dr. Ingrid N. Visser, Founder & Principal Scientist, Orca Research Trust

"One helluva book! David Kirby provides the most complete and accurate account of what I perceive as a transgression of morality toward the animal kingdom---the slavery of orcas, supreme beings in the aquatic world." -Ken Balcomb, Director, Center for Whale Research

"David Kirby's research is impeccable and his words unforgettable.  You will never view dolphin and orca shows the same way again."-  Lori Marino, PhD, Senior Lecturer in Neuroscience and Behavioral Biology, Emory University

"This remarkable book deserves to be acknowledged as the most significant and moving account of the often disastrous interaction of cetaceans and humans since Moby-Dick."-Richard Ellis, author of Men and Whales, The Empty Ocean, and The Great Sperm Whale

"Kirby shows that the reality (of orca captivity) is more akin to a circus, in which any benefits are outweighed by the cost to the whale – and sometimes to the keepers."--Financial Times

"Thorough and disturbing… One of the great books of the summer"
–Columbus Dispatch

"SeaWorld got a firm slap in the form of journalist David Kirby's fascinating and deeply disturbing book."--Christian Science Monitor

"An outstanding book… very-well written, extremely well documented, and timely."--Psychology Today

#1 Readers Poll Choice for Summer Books –Wall Street Journal Online

"This is a warning-bell book on par with Upton Sinclair's The Jungle or Jessica Mitford's The American Way of Death… After Kirby's brutal and ground-breaking work, we can't say we weren't warned." —The National (U.A.E.)

"An informed narrative that strongly suggests that despite their name, only when captured do the mammals become dangerous to humans. Free Willy, indeed."--New York Daily News

"Kirby has done his homework and does an excellent job of educating the public about orcas in the wild, as well as highlighting the dangers inherent in keeping these highly evolved, intelligent animals in captivity." --Examiner.com 

"Award-winning author David Kirby's forthcoming book, "Death at SeaWorld," meticulously chronicles the miserable lives and deaths of marine mammals in captivity."- Sacramento Bee

"A masterful work." --Seattle Post Intelligencer

"Eye-opening poolside reading… Death isn't supposed to pop up in environments carefully choreographed for family fun." --San Francisco Bay Guardian

"A real-life scientific thriller." --Barnes and Noble

"One of the summer's most anticipated new releases"-- Apple I-Bookstore

"A new book examining the dark side of keeping killer whales in captivity has slammed SeaWorld for its treatment of the enormous beasts and for massive safety failings which still haunt the world famous marine parks."--Daily Mail (UK)

"Fascinating, shocking, even infuriating, but ultimately rewarding… Discover the majesty of killer whales, the inherent cruelty of their captivity and the passion of those who fight for their freedom."--Shelf Aware, Online Book Reviews

"A page-turning book… a disturbing account that will be hard for SeaWorld to transcend… Kirby makes it horrifyingly clear how serious (captivity) can be for human safety and orca well-being."--Wayne's Blog, Wayne Pacelle, CEO of The Humane Society of the United States

"Even if you're not an animal nut like me, David Kirby's Death at Sea World is a fascinating book."--Sam Simon, Co-Creator of The Simpsons and leading animal-rights activist

"An exhilarating journalistic achievement—the reporting is singularly deep and wide, the research enormously meticulous, the storytelling as gripping as in a great novel."--Talking Animals with Duncan Strauss, WMNF-FM, Tampa

"Readers who value the natural world and the other intelligent species we share it with will find Death at SeaWorld fascinating, shocking, even infuriating, but ultimately rewarding."- Shelf Awareness

"The important and accurate information in this book is strong… The hero of the book is Naomi Rose, whose doctoral research on wild orcas led to her current position as senior scientist at the Humane Society of the United States."- The Charlotte Observer

"[Death at SeaWorld] is required reading for anyone who wants to know what really goes on behind the glamour of SeaWorld. Get a copy of this book. It's about time it was written."--Fayetteville Observer

"Kirby's knockout format is articulate and mind-blowing. This riveting read is not one that will easily be dismissed." --Digital Journal

"Lives are at stake here, and Kirby can be trusted to tell the story, having won a passel of awards for his investigative work."  --Library Journal

"Journalist Kirby offers another passionate industry exposé … the narrative goes into high gear with its concluding confrontation." --Publishers Weekly

"Simply superb… David Kirby has left no stone unturned. He has successfully refuted the arguments put forth by the pro-captivity advocates" –Philosophy Book Review

"Captivity disrupts (orca) behavior in practically every manner.  Contrary to marine mammal exhibition industry claims, orca lifespans are significantly shortened in captivity."-- Animal People Magazine

 "I particularly enjoyed this book. It reads very much like a novel to the point when you are staying up later than you should to finish it."--San Juan Island Update

"The bottom line of these findings is that keeping these magnificent beings in confinement is not a good thing."--Wild Time Radio TCR-FM (UK