A Death in Summer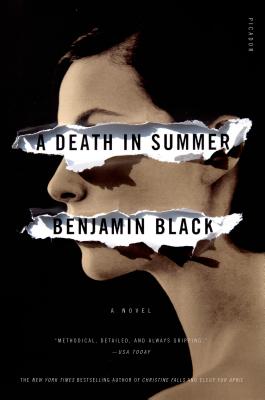 A Death in Summer
Picador USA, Paperback, 9781250002501, 288pp.
Publication Date: March 27, 2012
* Individual store prices may vary.
Buy Now
or
Shop Local
Enter your zip code below to purchase from an indie close to you.
Description
One of The "Chicago Tribune"'s Best Reads of 2011.
One of Dublin's most powerful men meets a violent end and an acknowledged master of crime fiction delivers his most gripping novel yet.
On a sweltering summer afternoon, newspaper tycoon Richard Jewell known to his many enemies as Diamond Dick is discovered with his head blown off by a shotgun blast. But is it suicide or murder? For help with the investigation, Detective Inspector Hackett calls in his old friend Quirke, who has unusual access to Dublin's elite.
Jewell's coolly elegant French wife, Francoise, seems less than shocked by her husband's death. But Dannie, Jewell's high-strung sister, is devastated, and Quirke is surprised to learn that in her grief she has turned to an unexpected friend: David Sinclair, Quirke's ambitious assistant in the pathology lab at the Hospital of the Holy Family. Further, Sinclair has been seeing Quirke's fractious daughter Phoebe, and an unlikely romance is blossoming between the two. As a record heat wave envelops the city and the secret deals underpinning Diamond Dick's empire begin to be revealed, Quirke and Hackett find themselves caught up in a dark web of intrigue and violence that threatens to end in disaster.
Tightly plotted and gorgeously written, "A Death in Summer "proves to the brilliant but sometimes reckless Quirke that in a city where old money and the right bloodlines rule, he is by no means safe from mortal danger.
About the Author
Benjamin Black is the pen name of John Banville, who was born in Wexford, Ireland, in 1945. His novels have won numerous awards, mostly recently the Man Booker Prize in 2005 for "The Sea," Under the name Benjamin Black he is also the author of "Christine"" Falls" and "The Silver Swan," He lives in Dublin.


Holly Black?is the bestselling?author of?the Spiderwick series. Her Modern Faerie Tales series is comprised of "Tithe, " which was an ALA Top Ten Book for Teens and received starred reviews in "Publishers Weekly "and "Kirkus Reviews"; "Valiant, " which was an ALA Best Book for Young Adults, a "Locus" Magazine Recommended Read, and a recipient of the Andre Norton Award from the Science Fiction and Fantasy Writers of America; and?"Ironside", ?the sequel to?"Tithe", was a "New York Times" bestseller. "White Cat", the first book in the Curse Workers series, was a -->Kirkus Reviews" Best Book, and ALA Best Fiction for Young Adults, and received starred reviews from -->Publishers Weekly", -->Kirkus Reviews", and -->BCCB". -->Red Glove", the second book in the Curse Workers series, received a starred review from -->Publishers Weekly".-->"Holly has also written a collection of short stories, -->The Poison Eaters and Other Stories". She lives in Amherst, Massachusetts. Visit Holly at blackholly.com.


Praise For A Death in Summer…
"[Benjamin Black's] books about the dour Irish pathologist named Quirke have effortless flair, with their period-piece cinematic ambience and their sultry romance. The Black books are much more like Alan Furst's elegant, doom-infused World War II spy books than like standard crime tales."—Janet Maslin, The New York Times
"Black's drab Dublin streets are full of perplexing figures, archetypes, as if the characters were stalking through some Jungian map of the unconscious: weakened, dying fathers, good mothers, bad mothers, twins, 'dark doubles,' ghosts surging up from the past… His narratives are loaded with poetic devices."—The New Yorker

"Black has improved with every book, and the latest, A Death in Summer, is his best yet… [Black] knows how to create a first-rate sleuth—the ungainly, middle-aged Dublin pathologist Quirke, a man who can never seem to keep his nose out of trouble."—Malcolm Jones, The Daily Beast
"The author of the Booker Prize-winning The Sea, Banville is a literary artist, whereas Black is a craftsman who churns out page-turning crime tales… Banville's latest Benjamin Black novel is another complex character study disguised as a plot-driven work of genre fiction."—The Kansas City Star
"[A Death in Summer] is an elegant novel, well-paced with dramatic twists, disturbing surprises and richly drawn characters whose actions and motives have a tangible psychological depth.
Mr. Black/Banville is well in form here... It can be either plunged into without any need to reference the previous three or else taken as a welcome new installment of a sequential quartet by one of Ireland's leading contemporary novelists."—New York Journal of Books