A Wrinkle in Time Trilogy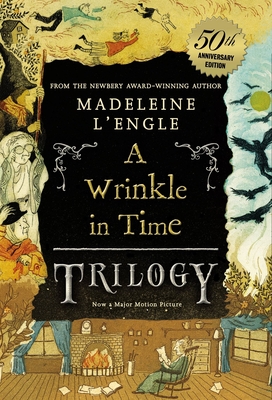 A Wrinkle in Time Trilogy
Square Fish, Paperback, 9781250003430, 785pp.
Publication Date: October 16, 2012
* Individual store prices may vary.
Buy at Local Store
Enter your zip code below to purchase from an indie close to you.
or
Buy Here
Description
Fifty years ago, Madeleine L'Engle introduced the world to "A Wrinkle in Time "and the wonderful and unforgettable characters Meg and Charles Wallace Murry, and their friend Calvin O'Keefe. Now their first three adventures are together in one volume. In the Newbery Award winner "A Wrinkle in Time," the children learn that Mr. Murry has been captured by the Dark Thing, and they must time travel to Camazotz to save him. In "A Wind in the Door," Meg, Calvin and Mr. Jenkins (their grade school principal) must travel inside C.W. and battle to save Charles's life as well as the balance of the universe. And in "A Swiftly Tilting Planet," Meg's brother Charles Wallace has twenty-four hours to stop the tragedy of nuclear war from occurring. Read the iconic novels that continue to inspire millions of fans around the world.
About the Author
Madeleine L'Engle (1918-2007) was the Newbery Medal-winning author of more than 60 books, including the much-loved "A Wrinkle in Time". Born in 1918, L'Engle grew up in New York City, Switzerland, South Carolina and Massachusetts. Her father was a reporter and her mother had studied to be a pianist, and their house was always full of musicians and theater people. L'Engle graduated cum laude from Smith College, then returned to New York to work in the theater. While touring with a play, she wrote her first book, "The Small Rain", originally published in 1945. She met her future husband, Hugh Franklin, when they both appeared in "The Cherry Orchard". Upon becoming Mrs. Franklin, L'Engle gave up the stage in favor of the typewriter. In the years her three children were growing up, she wrote four more novels. Hugh Franklin temporarily retired from the theater, and the family moved to western Connecticut and for ten years ran a general store. Her book "Meet the Austins", an American Library Association Notable Children's Book of 1960, was based on this experience. Her science fantasy classic "A Wrinkle in Time" was awarded the 1963 Newbery Medal. Two companion novels, "A Wind in the Door" and "A Swiftly Tilting Planet" (a Newbery Honor book), complete what has come to be known as The Time Trilogy, a series that continues to grow in popularity with a new generation of readers. Her 1980 book "A Ring of Endless Light" won the Newbery Honor. L'Engle passed away in 2007 in Litchfield, Connecticut.
Praise For A Wrinkle in Time Trilogy…
Praise for A Wrinkle in Time:
"A Wrinkle in Time is one of my favorite books of all time. I've read it so often, I know it by heart. Meg Murry was my hero growing up. I wanted glasses and braces and my parents to stick me in an attic bedroom. And I so wanted to save Charles Wallace from IT." —Meg Cabot
"A book that every young person should read, a book that provides a road map for seeking knowledge and compassion even at the worst of times, a book to make the world a better place." —Cory Doctorow
Praise for A Wind in the Door:
* "A suspenseful, life-and-death drama that is of believable cosmic significance. Complex and rich in mystical religious insights, this is breathtaking entertainment." —School Library Journal, starred review

"Madeleine L'Engle mixes classical theology, contemporary family life, and futuristic science fiction to make a completely convincing tale that should put under its spell both readers familiar with the Murrys and those meeting them for the first time." —The New York Times Book Review
Praise for A Swiftly Tilting Planet:
* "Charles Wallace, now fifteen, Meg, and the Murrys reappear in an intricately woven fantasy in which the boy time-spins through a tangle of history to find and mend the broken link that threatens to disturb the harmony of today. Theme is L'Engle's greatest forte, and once again she proves this with a compelling plot, rich in style that vibrates with provocative thoughts on universal love, individual caring, and the need for the joy in living." —Booklist, starred review