The Story of English in 100 Words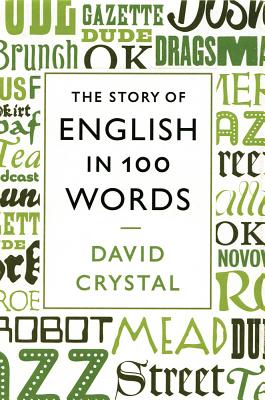 The Story of English in 100 Words
St. Martin's Press, Hardcover, 9781250003461, 288pp.
Publication Date: March 27, 2012
* Individual store prices may vary.
Buy at Local Store
Enter your zip code below to purchase from an indie close to you.
or
Not Currently Available for Direct Purchase
Description
The world's foremost expert on the English language takes us on an entertaining and eye-opening tour of the history of our vernacular through the ages.
In "The Story of English in 100 Words," an entertaining history of the world's most ubiquitous language, David Crystal draws on one hundred words that best illustrate the huge variety of sources, influences and events that have helped to shape our vernacular since the first definitively English word roe' was written down on the femur of a roe deer in the fifth century. Featuring ancient words ( loaf'), cutting edge terms that relfect our world ( twittersphere'), indispensible words that shape our tongue ( and', what'), fanciful words ( fopdoodle') and even obscene expressions (the "c word..".), David Crystal takes readers on a tour of the winding byways of our language via the rude, the obscure and the downright surprising.
About the Author
David Crystal is one of the world's foremost authorities on language, and as editor of the Cambridge Encyclopedia database has used the Internet for research purposes from its earliest manifestations. His work for the technology company AND Classification Data Limited has involved him in the development of an information classification system with several Internet applications and he has extensive professional experience of Web issues. Professor Crystal is author of the hugely successful Cambridge Encyclopedia of Language (1987; Second Edition 1997), Cambridge Encyclopedia of the English Language (1995), English as a Global Language (1997), and Language Death (2000). An internationally renowned writer, journal editor, lecturer and broadcaster, he received an OBE in 1995 for his services to the study and teaching of language. His edited books include The Cambridge Encyclopedia (1990; Second Edition 1994; Third Edition 1997; Fourth Edition 2000), The Cambridge Paperback Encyclopedia (1993; Second Edition 1995; Third Edition 1999), The Cambridge Biographical Encyclopedia (1994; Second Edition 1997) and The Cambridge Factfinder (1994; Second Edition 1997; Third Edition 1998; Fourth Edition 2000).
Praise For The Story of English in 100 Words…
"The best word book to come down the pike in many a moon. There are "Eureka!" moments in every chapter. An ingenious idea, and only David Crystal could have pulled it off. He's a marvel (but then we knew that already)."--Patricia T. O'Conner and Stewart Kellerman, authors of Origins of the Specious: Myths and Misconceptions of the English Language, and bloggers at Grammarphobia.com