A Killing in the Hills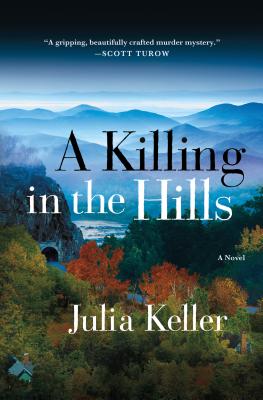 A Killing in the Hills
Minotaur Books, Hardcover, 9781250003485, 371pp.
Publication Date: August 21, 2012
* Individual store prices may vary.
Buy at Local Store
Enter your zip code below to purchase from an indie close to you.
or
Not Currently Available for Direct Purchase
Description
In "A Killing in the Hills," a powerful, intricate debut from Pulitzer Prize-winning journalist Julia Keller, a mother and a daughter try to do right by a town and each other before it's too late.
What's happening in Acker's Gap, West Virginia? Three elderly men are gunned down over their coffee at a local diner, and seemingly half the town is there to witness the act. Still, it happened so fast, and no one seems to have gotten a good look at the shooter. Was it random? Was it connected to the spate of drug violence plaguing poor areas of the country just like Acker's Gap? Or were Dean Streeter, Shorty McClurg, and Lee Rader targeted somehow?
One of the witnesses to the brutal incident was Carla Elkins, teenaged daughter of Bell Elkins, the prosecuting attorney for Raythune County, WV. Carla was shocked and horrified by what she saw, but after a few days, she begins to recover enough to believe that she might be uniquely placed to help her mother do her job.
After all, what better way to repair their fragile, damaged relationship? But could Carla also end up doing more harm than good in fact, putting her own life in danger?
About the Author
Julia Keller spent twelve years as a reporter and editor for the Chicago Tribune, where she won a Pulitzer Prize. A recipient of a Nieman Fellowship at Harvard University, she was born in West Virginia and lives in Chicago and Ohio.
Praise For A Killing in the Hills…
"A Killing in the Hills superbly evokes the hard times and wooded beauty of a poverty-stricken county in West Virginia. . .A finely written and engrossing debut."
—Houston Chronicle

"A Killing In The Hills is a gripping, beautifully-crafted murder mystery that shows that small-town West Virginia is no longer Mayberry. Great reading."
—SCOTT TUROW

"Julia Keller is that rare talent who combines gripping suspense, a fabulous sense of place and nuanced characters you can't wait to come back to. A must read."
—KARIN SLAUGHTER

"A Killing in the Hills is a remarkably written and remarkably tense debut. I loved it."
—DENNIS LEHANE

"Julia Keller's A Killing in the Hills is a terrific debut—atmospheric, suspenseful, assured. I hope there's more to come in the story of Bell Elkins and Acker's Gap."
—LAURA LIPPMAN

"Be careful opening this book because once you do you won't be able to close it. Instead, clear the weekend, silence the phone and settle into Acker's Gap, a place as fascinating and fraught with violence and beauty as Daniel Woodrell's Ozarks or William Gay's Tennessee. A killer novel."
—TOM FRANKLIN

"Outstanding. . .Keller does a superb job showing both the natural beauty of Appalachia and the hopeless anger of the people trapped there in poverty. . .Unforgettable."
—Publishers Weekly (starred review, Pick of the Week)

"A page-turner with substance and depth, this is as suspenseful and entertaining as it is accomplished."
—Booklist (starred review)

"A fictional debut for a Pulitzer Prize–winning journalist, born and raised in West Virginia, whose love for the state, filled with natural beauty and deep poverty, pervades a mystery that has plenty of twists and turns and a shocking conclusion."
—Kirkus (starred review)