Evil at Heart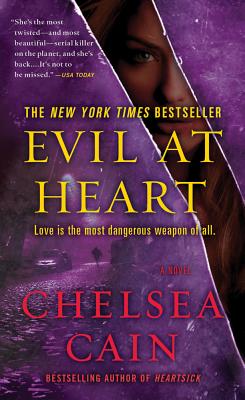 Evil at Heart
St. Martin's Press, Mass Market Paperbound, 9781250004123, 352pp.
Publication Date: November 29, 2011
* Individual store prices may vary.
Buy at Local Store
Enter your zip code below to purchase from an indie close to you.
or
Not Currently Available for Direct Purchase
Description
Gretchen Lowell is still on the loose. These days, she's more of a cause celebre than a feared killer, thanks to sensationalist news coverage that has made her a star. Her face graces magazine covers and there have been sightings of her around the world. Most shocking of all, "Portland Herald" reporter Susan Ward has uncovered a bizarre fan club which celebrates the number of days she's been free
Archie Sheridan hunted Gretchen for a decade, and after his last ploy to catch her went spectacularly wrong, he remains hospitalized months later. When they last spoke, they entered a detente of sorts Archie agreed not to kill himself if she agreed not to kill anyone else. But when a new body is found accompanied by Gretchen's trademark heart, all bets are off and Archie is forced back into action. Is the Beauty Killer back or has the cult surrounding her created a whole new evil?
About the Author
Chelsea Cain is the New York Times bestselling author of The Night Season, Sweetheart and Heartsick. Both Heartsick and Sweetheart were listed in Stephen King's Top Ten Books of the Year in Entertainment Weekly. Chelsea lived the first few years of her life on an Iowa commune, then grew up in Bellingham, WA, where the infamous Green River killer was "the boogieman" of her youth. The true story of the Green River killer's capture was the inspiration for the story of Gretchen and Archie. Cain lives in Portland with her husband and daughter.
Praise For Evil at Heart…
"She's the most twisted—and most beautiful—serial killer on the planet, and she's back... It's not to be missed." —USA Today
"You have to hand it to Cain, who's made the serial-killer genre a thoroughly female-friendly experience. . . . [She] churns stomachs with a delicate touch." —The New York Times Book Review
"Remember the old debate about which is mightier, the pen or the scalpel? In Evil at Heart, both are in the same hands, and both cut all the way to the bone." —The Oregonian
"Cain is among a new breed of women writers stepping way out of the stereotypical female comfort zones… serving up meatier and more gruesome stories…. Cain knows how to keep readers fortified with psychological drama." —Chicago Sun Times
"The narrative bounces along with Cain's trademark mix of tight plotting, creepy characters, and body parts."—Charlotte Observer
"Cain continues to display her remarkable ability to probe the psyches of her characters... Popular entertainment—the kind that mixes crime, horror, and even a little black comedy—just doesn't get much better than this." —Booklist (starred review)
THE NIGHT SEASON
"High-octane…quick-paced…frightening…The world that Cain creates is as dark and ominous as ever….This is the mood that Cain has mastered: the dread of knowing that something is off…It is what presses her readers onward, pulses racing." —The New York Times Book Review
"The Night Season has headlong pacing, endearing characters, twisted humor, and scalpel-sharp descriptions of murder and mayhem. It grabs you like a deadly undertow and doesn't let go."—Parade Magazine (Parade Picks)
"Superb…Cain pinned readers to their seats with a unique mix of horror, black humor, and psychological tension. This time she adds another arrow to her narrative quiver: the interplay between landscape and mood…Terrifying."—Booklist (starred review)
 "Chelsea Cain has a scary talent for creating twisted characters…deliciously creepy." —
Fresh Fiction
"The suspense is plentiful and Cain's evocation of the gloomy atmosphere and Portland setting is superb…excellent…the new queen of serial-killer fiction."—Kirkus Reviews
SWEETHEART
"We've been down Hannibal Lecter Avenue many times, and these books shouldn't work...but they do. Chalk it up to excellent writing and Cain's ferocious sense of humor. The Portland (Ore.) setting is refreshing, too."—Stephen King, Entertainment Weekly (A Top-Ten Book of the Year)
"Sensual and engulfing…keeps us turning the pages."—The New York Times Book Review
"Superb...With its brisk pacing, carefully metered violence and tortured hero, Cain's sophomore effort will leave readers desperate for more."—Publishers Weekly (starred review)
"Cain's debut Heartsick had even the most jaded thriller fans sleeping with the lights on. She tells an equally frightening story in Sweetheart."—USA Today
"Profoundly creepy and disturbing."—The Boston Globe
"A sharp psychological inquiry into evil and obsession, as well as a deeply unhealthy love story."—The Seattle Times
"Sweetheart is not afraid to explore damage too severe to be undone."—Los Angeles Times
"The forces that conspired to make Cain's Heartsick a bestselling page-turner last year have reunited in its sequel…With her preternatural grasp of pacing and ability to create vivid characters with astonishing economy, Cain expertly drives her narrative."—Los Angeles Times
"[Cain] pushes the form to an undeniably persuasive and irresistible guilty pleasure." —The Oregonian
"There are numerous thrills to be had."—Kirkus Reviews
"White-hot."—Sacramento Bee
"High octane"—Library Journal 
"Chelsea Cain is a rising star…Sweetheart reunites the characters of her terrific hit debut [and] advances the Archie-Gretchen relationship exotically and dramatically."—The Sunday Times (London) 
"The writing style, combined with a Thomas Harris-like relish for human gore, translated into a remarkably fresh and exciting thriller that didn't miss the opportunities for laughs in the midst of the carnage."—Toronto Star
HEARTSICK
"A distinctive and disturbing novel that blurs the lines between suspense fiction and psychological suspense…Mystery fans who enjoy their whodunits decidedly creepy should thoroughly enjoy this fast-paced and downright gruesome psychological thriller."—Chicago Tribune
"Move over, Hannibal Lecter! Chelsea Cain's thriller boasts a wicked new serial murderer…one of the most seductive and original psychopaths since Hannibal…In addition to spiky characters, Cain has a crisp voice, a wicked sense of humor, and an imagination for all the horrors that can unfold in a locked basement…a profoundly creepy thriller." —Entertainment Weekly
"Readers will feel Archie's exquisite pain, and they'll relate to the troubled young reporter…An excellent choice for mystery readers who like to be creeped out."—The Miami Herald 
"Thoroughly engaging… The journey to the end of Heartsick is more pleasure than pain." —Seattle Post-Intelligencer
"It does the Hannibal Lecter genre proud. You'll find yourself waiting anxiously for the planned next book in the series."—Rocky Mountain News
"Heartsick is a very different, and a very good, novel…The twisted tale of Archie and Gretchen is enough to hold any novel together, but Cain adds a perfectly detailed hunt to the mix…There are more books to come in this series. I can hardly wait. "—Toronto Globe
"Thoroughly compelling." —The Seattle Times
"One of the most original serial-killer thrillers to appear in several years…Throw out all your assumptions about the sameness of serial-killer novels; this one breaks the mold… The thriller of the year."—Booklist (starred review)
"The book puts such an original spin on [serial-killer novels] that Cain might as well have invented a new genre… It deserves a wide audience."—Toronto Star 
"Outstanding…[Lowell] is as memorable a villain as Hannibal Lecter…A vivid literary style lifts this well above the usual run of suspense novels."—Publishers Weekly (starred review) 
"Cain creates a cleverly contorted thriller plot and characters with memorable personalities."—Kirkus Reviews
"Packed with razor-edged character studies, realistic dialogue and an unyielding plot, Heartsick is on of the year's freshest and most original mysteries…The brisk plot never lets up as Cain keeps the suspense level high. Heartsick is a superb police procedural."—Florida Sun-Sentinel
"A gory suspense piece that is absolutely impossible to put down… Stylistically, this is great stuff for true-crime readers and for those who enjoy Jan Burke's Irene Kelly series. Recommended."—Library Journal
"Dark, distressing and disturbing, Heartsick is also a triumph of the human heart. Just pray you never meet Gretchen."—Val McDermid, bestselling author of The Grave Tattoo
"An excellent choice for mystery readers who like to be creeped out."—Fort Worth Star Telegram
"I'm looking forward to the next adventure of this unlikely pair."—St. Louis Post-Dispatch