Battleground Pacific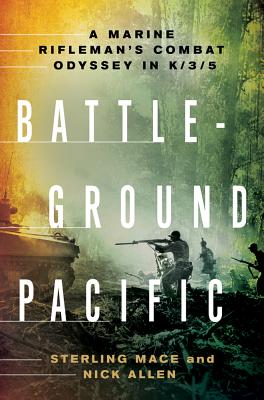 Battleground Pacific
A Marine Rifleman's Combat Odyssey in K/3/5
St. Martin's Press, Hardcover, 9781250005052, 333pp.
Publication Date: May 8, 2012
* Individual store prices may vary.
Buy at Local Store
Enter your zip code below to purchase from an indie close to you.
or
Not Currently Available for Direct Purchase
Description
A POWERFULLY WROUGHT MEMOIR BY A MEMBER OF WWII'S FABLED 1ST MARINE DIVISION
Sterling Mace's unit was the legendary "K-3-5" (for Company K, 3rd Battalion, 5th Regiment of the 1st Marine Division) and his story takes readers through some of the most intense action of the Pacific War, from the seldom-seen perspective of a rifleman at the point of attack.
"Battleground Pacific" is filled with indelible moments that begin with his childhood growing up in Queens, New York, and his run-in with the law that eventually led to his enlistment. But this is ultimately a combat tale as violent and harrowing as any that has come before. From fighting through the fiery hell that was Peleliu to the deadly battleground of Okinawa, Mace traces his path from the fear of combat to understanding that killing another human comes just as easily as staying alive. He learns that bravery often equates to stupidity, leading to the death of close friends, but also that life goes on, with death on its heels.

"Battleground Pacific" is one of the most important and entertaining memoirs about the Pacific theater in WWII.
About the Author
STERLING MACE enlisted in the United States Marine Corps in 1942 and was stationed at Parris Island, Camp Lejeune, the Brooklyn Naval Yard, and then finally Pavuvu, before experiencing the toughest fighting the Pacific war had to offer, as a rifleman in K/3/5, at Peleliu and later on Okinawa. He was a consultant on E.B. Sledge s book, "With the Old Breed." He lives in St. Pete Beach, Florida.
Mal Warwick, consultant, author, and public speaker, is the founder or cofounder of four affiliated companies: Mal Warwick & Associates, Inc.; Share Group, Inc.; donordigital.com LLC; and Response Management Technologies, Inc. These companies provide a wide range of fundraising and marketing services to nonprofit clients throughout North America. Warwick is the author or editor of ten books on the topic of fundraising, including "The Five Strategies for Fundraising Success,"
Ted Hart is president and CEO of ePhilanthropyFoundation, an organization devoted to fostering secure, private, and ethical online philanthropy. Hart serves on the Association of Fundraisers Professionals' International Board of Directors.
Nick Allen is CEO of donordigital.com LLC, the digital direct marketing company that helps nonprofits use the Internet for fundraising, marketing, advocacy, and e-commerce.
Allen has twenty-five years of experience in building nonprofit organizations, raising money, organizing, and media and public relations. He is the coeditor of the first edition of" Fundraising on the Internet" (Strathmoor Press, 1996)
Praise For Battleground Pacific…
"Battleground Pacific is another great tribute to 'The Greatest Generation.' During much of the book, and especially the daily grind of combat, I found myself comparing Mace's ordeals with those of my uncle, Sgt. John Basilone, the Medal of Honor hero from Guadalcanal. Both Mace and Basilone suffered the physical and mental hardships of battle and the frustration of the seemingly endless conflict with the enemy. Mace's tale is written in the language of a grunt speaking for all the unsung heroes who lived and died in the Pacific. A good read from this Marine's perspective."
—Jerry Cutter, former Marine, nephew of Sgt. John Basilone, USMC, and author of the authorized biography of Basilone, I'm Staying with My Boys
"Battleground Pacific is more than a book. It's a virtual minicam on a rifleman's helmet, riveting home the sights and sounds of war in a realness you expect to find only in a movie theater."
—Bob Welch, co-author of Easy Company Soldier: The Legendary Battles of a Sergeant from WWII's "Band of Brothers"