Detroit Breakdown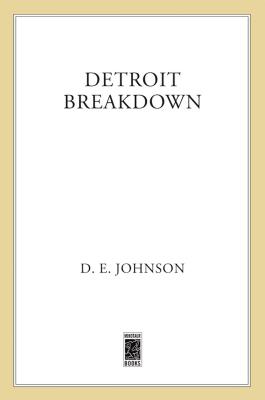 Detroit Breakdown
Minotaur Books, Hardcover, 9781250006622, 336pp.
Publication Date: September 4, 2012
* Individual store prices may vary.
Not Currently Available for Direct Purchase
or
Shop Local
Enter your zip code below to purchase from an indie close to you.
Description
Will Anderson and Elizabeth Hume are called to the vast Eloise Insane Asylum outside of Detroit, where Elizabeth's cousin Robbie is a patient and now a murder suspect. The victim, like three others before him at the asylum in recent months, was killed with the infamous "Punjab lasso," the murder weapon of the Phantom of the Opera.
Certain of Robbie's innocence, they begin an investigation with the help of Detective Riordan. Will has himself committed to the asylum to investigate from the inside, and Elizabeth volunteers at Eloise and questions people outside the asylum. While Will endures horrific conditions in his search for the killer, Elizabeth and Riordan follow the trail of a murder suspect all the way to Kalamazoo, where they realize the killer might still be at Eloise, putting Will in extreme danger. They race back to Detroit, but will they arrive in time to save Will and bring the killer to justice?
Filled with Johnson's trademark roller-coaster plot, nuanced characters, and brilliant historical research, "Detroit Breakdown" is a compelling, dark mystery set in the once- flourishing Paris of the West.
About the Author
D.E. JOHNSON, a graduate of Central Michigan University, is a history buff who has been writing fiction since childhood. The early 20th century, a time of big ambitions, huge achievements, and crushing poverty, holds a special fascination for him. Johnson comes by his interest in automotive history honestly. His grandfather was the Vice President of Checker Motors, beginning work with Checker in 1924 and continuing until the 1970 s. Fortunately, he doesn t come by his interest in murder the same way. He is the author of books including "The Detroit Electric Scheme" and "Motor City Shakedown". The author is married, has three daughters, and lives near Kalamazoo, Michigan.

Born in 1928 and educated at Magdalene College, Oxford, Paul Johnson was editor of the influential English weekly, "The New Statesman, " from 1964-1970, and is now Director, New Statesman Publishing Company. Mr. Johnson's prodigious scholarship and varied interests are evident in the themes of his books. Since publication of "A History of Christianity" he has written "Enemies of Society, The Civilization of Ancient Egypt" and "Civilizations of the Holy Land."


Praise For Detroit Breakdown…
Praise for D. E. Johnson:
Detroit Breakdown:
"Johnson's excellent third mystery effectively employs parallel first-person narratives to advance an investigation into a creepy murder.  Johnson makes the most of the spooky setting." --
Publishers Weekly
(starred review)  "Johnson's third chronicle of early-1900s Detroit provides a mystery with suspects aplenty and a scary portrait of life in an insane asylum."--
Kirkus Reviews
 "While exposing his characters to sadistic doctors, violent orderlies, and chaotic, frightening madness, Johnson ratchets up the tension as the killer repeatedly eludes capture. The Phantom's unmasking is such a shock that readers will wonder if Elizabeth and Will can ever recover. As suspenseful and twisted as Lehane's
Shutter Island
(2003) and Lavalle's
The Devil in Silver
(2012), this taut historical thriller is a definite winner."--
Booklist
 "Johnson's spooky third series entry ensures its place among hot new historicals. His unique take on Detroit in the early 20th century and its burgeoning automotive culture make this entry a perfect crossover selection for historical fiction buffs. The lead characters—chapters alternate between the two narrators—have a checkered and violent past that Johnson fills in nicely for new readers. Recommend for Stefanie Pintoff and Caleb Carr devotees
."--Library Journal
 "Detroit Breakdown is a powerful dark historical noir. Fast-paced from the moment Will enters the asylum, readers will be shocked by the treatment he receives. The serial killer inquiry is superb, but it is the conditions at the Eloise Insane Asylum that grips the audience as D.E. Johnson provides another superb Anderson Motor City Shakedown."--Genre Go Round Reviews
Motor City Shakedown
"The scenes of Motor City, riding high on the industrial wave, are extraordinarily vivid."--The New York Times Book Review
"Johnson's vibrant follow-up to The Detroit Electric Scheme delivers razor-sharp depictions of the Motor City. Johnson brings the turbulence and rampant corruption of the era to life through his flawed yet tenacious lead in this worthy successor to his debut."--Publishers Weekly (starred review)
"If Dennis Lehane was from Detroit, this is the book he'd write. The Motor City was once the most important city in the world, and D. E. Johnson does a masterful job at making that time and place come alive on the page. Motor City Shakedown is as hard and tough and downright noir as anything I've read in recent memory, but it's got a beating heart, too."--Steve Hamilton, Edgar Award–winning author of The Lock Artist
"Superb."--National Review
"Johnson's . . . clever weaving of history with intriguing characters makes for an exciting read."--Kirkus Reviews
The Detroit Electric Scheme
"The surprise ending leaves you gasping and shaking your head at Johnson's masterful plotting and the menacing tension that forces otherwise good characters to behave despicably. Every bit as powerful as Patricia Highsmith's Ripley series, this gem of a debut showcases an author to watch very closely."--Booklist (starred review)
"An empathetic hero and an abundance of interesting historical detail should keep readers engaged."--Kirkus Reviews
"Full of nonstop action, plot twists and turns, and great insight into the early history of the U.S. car industry, this debut is part coming-of-age tale and part historical mystery. Essential for historical fans."--Library Journal
"Absorbing."--The Seattle Times