Ship It Holla Ballas!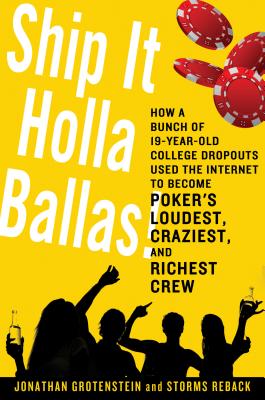 Ship It Holla Ballas!
How a Bunch of 19-Year-Old College Dropouts Used the Internet to Become Poker's Loudest, Craziest, and Richest Crew
St. Martin's Press, Hardcover, 9781250006653, 309pp.
Publication Date: January 15, 2013
* Individual store prices may vary.
Buy at Local Store
Enter your zip code below to purchase from an indie close to you.
or
Not Currently Available for Direct Purchase
Description
Who were the Ship It Holla Ballas?
Arguably the most successful poker crew of all time, they took advantage of the online poker boom to win tens of millions of dollars before most of them were old enough to set foot inside a casino. Then they did what any red-blooded teenagers with mountains of cash and no responsibilities would do: They partied like rock stars, transforming themselves from Internet nerds with zero life skills into legends, at least in their own minds.
In "Ship It Holla Ballas , " Jonathan Grotenstein and Storms Reback trace the rise and fall of Internet poker through the eyes of its most unlikely stars: A group of teenage college dropouts, united by social media, who bluffed their way to the top of the game.
About the Author
JONATHAN GROTENSTEIN is a former professional poker player and the author or co-author of eight books. His first book, "Poker: The Real Deal" (with Phil Gordon), remains one of the bestselling poker books of all-time.STORMS REBACK is a former professional poker player and the co-author of two books, including "All In: The (Almost) Entirely True Story of the World Series of Poker" (with Jonathan Grotenstein).
Praise For Ship It Holla Ballas!…
"In Ship It Holla Ballas!, Grotenstein and Reback share the lives and games of the incredibly young, ridiculously successful superstars of the Online Poker Era. The authors handle the fast pace, shadowy lives, and multiple players and locations with the skill and dexterity of Good2cu, Raptor, or durrrr 20-tabling."
—Michael Craig, New York Times bestselling author of The Professor, The Banker, and the Suicide King
"The loud narcissism and adolescent degeneracy of these talented 'ballas' ain't pretty, but the testosterroneous world of high-stakes online poker in America before Black Friday, in all its doomed glory, steadily throbs in Grotenstein and Reback's swift prose."
—James McManus, New York Times bestselling author of Positively Fifth Street

"An infectious tale, told with the speed of a rocket sled, Ship It Holla Ballas! puts us in with a gang of under-age poker geniuses as they turn Las Vegas on its ear, making off with the gelt as well as the girls." —Bruce Porter, New York Times bestselling author of Blow