The Last Refuge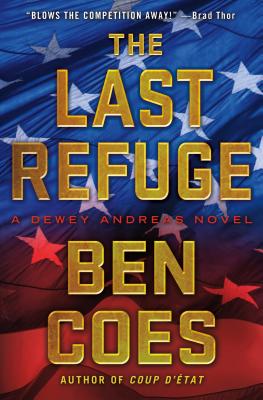 The Last Refuge
St. Martin's Press, Hardcover, 9781250007155, 407pp.
Publication Date: July 3, 2012
* Individual store prices may vary.
Shop Local
Enter your zip code below to find indies closest to you.
Description
"With time running out to stop the nuclear destruction of Tel Aviv, Dewey Andreas must defeat his most fearsome opponent yet."
""
Off a quiet street in Brooklyn, New York, Israeli Special Forces commander Kohl Meir is captured by operatives of the Iranian secret service, who smuggle Meir back to Iran, where he is imprisoned, tortured, and prepared for a show trial.
What they don't know is that Meir was in New York to recruit Dewey Andreas for a secret operation. Meir had been tipped off that Iran had finally succeeded in building their first nuclear weapon, one they were planning to use to attack Israel. His source was a high-level Iranian government official and his proof was a photo of the bomb itself.
Dewey Andreas, a former Army Ranger and Delta, owes his life to Meir and his team of Israeli commandos. Now, to repay his debt, Dewey has to attempt the impossible ---to both rescue Meir from one of the world's most secure prisons and to find and eliminate Iran's nuclear bomb before it's deployed---all without the help or sanction of Israel or America (at the near certain risk of detection by Iran).
Unfortunately, Dewey's first moves have caught the attention of Abu Paria, the brutal and brilliant head of VEVAK, the Iranian secret service. Now Dewey has to face off against, outwit, and outfight an opponent with equal cunning, skill, and determination, with the fate of millions hanging in the balance.
About the Author
Ben Coes has worked at the White House as a speechwriter for the administrations of President Ronald Reagan and President George H.W. Bush. Coes subsequently wrote speeches for Texas oilman billionaire T. Boone Pickens. For more than a decade, Coes has been in private industry, where he is a partner at The Mustang Group LLC. He served as campaign manager for Mitt Romney s successful run for Governor of Massachusetts and was subsequently invited to be a Visiting Fellow at Harvard University s John F. Kennedy School of Government. A graduate of Columbia College, where he won the prestigious Bennett Cerf Memorial Prize for Fiction during his senior year, Ben lives in the Boston area with his wife and four children.