The Great Night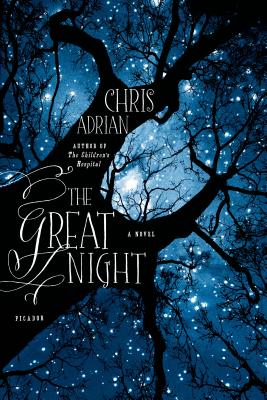 The Great Night
Picador USA, Paperback, 9781250007384, 369pp.
Publication Date: May 8, 2012
* Individual store prices may vary.
Shop Local
Enter your zip code below to find indies closest to you.
Description
Chris Adrian's magical third novel is a mesmerizing reworking of Shakespeare's A Midsummer Night's Dream. On Midsummer's Eve 2008, three brokenhearted people become lost in San Francisco's Buena Vista Park, the secret home of Titania, Oberon, and their court. On this night, something awful is happening in the faerie kingdom: in a fit of sadness over the end of her marriage and the death of her adopted son, Titania has set loose an ancient menace, and the chaos that ensues upends the lives of immortals and mortals alike in a story that is playful, darkly funny, and poignant.
About the Author
CHRIS ADRIAN is the author of Gob s Grief, The Children s Hospital and A Better Angel, which was selected as one of the best books of the year by The New York Times Book Review. Adrian, a fellow in pediatric hematology and oncology at the University of California and a Ph.D. student at Harvard Divinity School, was also selected as one of The New Yorker s 20 Under 40 to watch.
Praise For The Great Night…
"Adrian takes great imaginative risks in his writing....He clearly knows the sorrow of the human comedy and what fools we mortals be. Brush aside your Shakespeare, and you will find the same in The Great Night."—The Washington Post
"A touching human story of 'mortal sadness'…interweaving stories and situations that are in turn kitsch, camp, wry, and heartbreaking. Adrian balances seemingly incongruous elements to form a profoundly humane and moving work."—The Telegraph (London)
"As moving as it is imaginative...Amid the magical romp, Adrian...manages to grapple with the problems and joys of the most human of emotions: love."—GQ
"Whimsical, very sad, wonderful...At age forty, Adrian ranks among the best novelists of his generation, a moralist of a very high order....He has taken the scaffolding of Shakespeare's play to build a cautionary tale about the dangers lurking in all of us."—The Cleveland Plain Dealer