Vigilante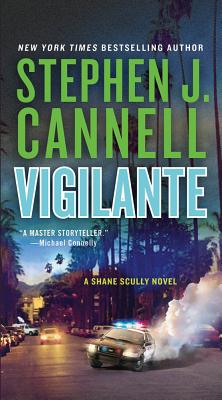 Vigilante
St. Martin's Press, Mass Market Paperbound, 9781250008084, 320pp.
Publication Date: September 25, 2012
* Individual store prices may vary.
Buy Now
or
Shop Local
Enter your zip code below to purchase from an indie close to you.
Description
Vigilante
Stephen Cannell
"In the last novel by acclaimed producer and New York Times bestselling author Stephen J. Cannell, LAPD detective Shane Scully and his partner Sumner Hitchens investigate a crime with ties to the sometimes violent world of reality TV"
""
""Lita Mendez was a thorn in the LAPD's side. An aggressive police critic and gang activist, she'd filed countless complaints against the department. So when she's found dead in her home, Detective Scully and his partner Hitchens fear the worst: that there's a killer in their ranks.
Outside the crime scene, Nixon Nash and his television crew have set up shop. Nash is the charismatic host of a hit reality show called "Vigilante TV," dedicated to beating the cops at their own game: solving murders before they can. Now he has the murder of Lita Mendez in his sights. He presents the detectives with a choice: either join his team, or prepare for a public takedown.
But Scully knows that Nash isn't the folk-hero he seems. He will do anything in the name of self-promotion. If a detective got in his way, would he be prepared to kill? In this new novel, Scully will have to risk everything save himself and the job he loves.
About the Author
In his thirty-five-year career, Emmy Award-winning writer Stephen J. Cannell has created more than forty TV series. Among his hits are The Rockford Files, Silk Stalkings, The A-Team, 21 Jump Street, Hunter, Renegade, Wiseguy, and The Commish. He lives in Los Angeles with his wife and children.
Praise For Vigilante…
Praise for Stephen J. Cannell
VIGILANTE
"Cannell's sturdy just-the-facts style and intimate knowledge of L.A. police venues and procedures unflinchingly ring true in a culture that assumes even homicide 'isn't about justice; it's about Nielsen ratings.'" —Publishers Weekly
"The late Cannell's last Scully novel is a fitting ending to the series, reminding us why Cannell was a significant part of our entertainment culture on TV and in print for decades: he was a darn good storyteller. This well-plotted story shouldn't be missed." —RT Book Reviews
the PROSTITUTES' BALL
"Fast, funny, and delightfully twisty—the best Scully yet." —Kirkus Reviews (starred review)
"Cannell injects new life into his bestselling Shane Scully series…Hitch and Shane are a powerful combination." —Publishers Weekly
"Perfectly fresh…[Scully is] a great character, and this is another fine novel in the series." —Booklist
ON THE GRIND
"Cover to cover, [On the Grind] never lets you up for air. Read it!"—Michael Connelly
"A hard-boiled cop and really scuzzy bad guys...Cannell is the gold in crime fiction." —Stephen Coonts
THREE SHIRT DEAL
"Cannell's brand of thriller is served straight-up…and he knows how to cut to the chase."
—The New York Times
"The white-knuckle climax is one of the most exciting ever."—BookReporter.com
WHITE SISTER
"A very satisfying thriller written by a born entertainer."—New York Post
"A strong piece of fiction that leads readers…through the harrowing underbelly of L.A. "—Daily News
"A terrific read."—New York Sun