Baby Proof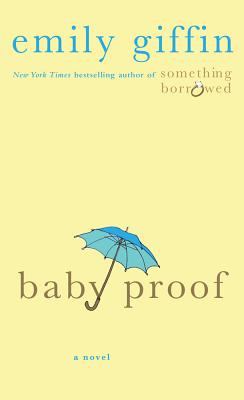 Baby Proof
St. Martin's Press, Mass Market Paperbound, 9781250008510, 373pp.
Publication Date: March 27, 2012
* Individual store prices may vary.
Buy at Local Store
Enter your zip code below to purchase from an indie close to you.
or
Buy Here
Description
Baby Proof
Emily Griffin
A novel that explores the question: Is there ever a deal-breaker when it comes to true love?
Claudia Parr has everything going for her. A successful editor at a publishing house in Manhattan, she's also a devoted sister, aunt, and friend. Yet she's never wanted to become a mother--which she discovers is a major hurdle to marriage, something she desperately wants. Then she meets her soul mate Ben who, miraculously, feels the same way about parenthood. The two fall in love and marry, committed to one another and their life of adventure and discovery. All's well until one of them has a change of heart. Someone wants a baby after all.
This is the witty, heartfelt story about what happens to the perfect couple when they suddenly want different things and there is no compromise. It's about deciding what is most important in life and wagering everything to get it. And most of all, it's about the things we will--and won't--do for love.
About the Author
Emily Giffin is the author of several New York Times bestselling novels, including Something Borrowed, which has been adapted as a major motion picture. A graduate of Wake Forest University and the University of Virginia School of Law, she lives in Atlanta with her family.
Praise For Baby Proof…
 "Giffin's writing is true, smart, and heartfelt. Claudia is both flawed and achingly real." —Entertainment Weekly
"Smart, snappy...sure to provoke discussion." —
People
"[An] entertaining and unpredictable quest." —
Redbook
"[A] wry twist on the classic relationship deal-breaker." —
New York Times
"When it comes to writing stories that resonate with real women, best-selling author Emily Giffin has hit her stride. [BABY PROOF] examines the great lengths people go for each other, and is filled with great female characters." —
San Francisco Chronicle
"Thoughtful…The idea that someone, especially a woman, might sincerely just not want to have children is a stubborn taboo. Giffin carefully navigates its implications, drawing Claudia as both painfully self-aware and prone to bouts of romantic naivete…[and] paints [her] heartbreak at losing Ben with sensitivity and grace." —
Chicago Sun-Times
"One of the sharpest writers out there…profound, humorous, and reveals layers about a woman's deepest desires." —
Arizona Republic
"Thought-provoking meditation on our culture's focus on parenthood and family." —
Washington Post
"Emily Giffin [is a] creator of characters so real and so enthrallingly flawed that people sometimes forget they are fictional.  Complicated and unexpected." —
Atlanta Journal Constitution
"[The characters are] funny and flawed, ambitious and insecure, relatable enough to feel like a good friend while enduring dramatic crises enough for a dozen women." —
Elle
"Giffin's easy flow lets you relate immediately to her characters, and even if you can't identify with the parenthood question, Claudia's crisis resonates. Giffin captures the experience of being thirtysomething particularly well – as she did with the twentysomethings of her last two novels." —
Miami Herald
"[BABY PROOF] is by turns a funny and serious exploration of how difficult it can be, even in this age of choice, to choose the childless path." —
Hartford Courant
"By avoiding easy answers, Giffin once again proves she's one of the best in this thoughtful, layered, and wholly original story of a woman facing a major choice in her life." —
Booklist
"Immensely refreshing…challenging [and] thought-provoking." —
Pages magazine
"What if it was decided – way before the first vow was ever exchanged – that the marriage wouldn't include children? And then one of the partners has a change of heart? That's the compelling topic that…Emily Giffin explores wonderfully in BABY PROOF. The publisher is promoting the novel as 'at its core, a love story.' But it is so much more…one with a weighty topic that deserves its due in a society that all too often assumes sanctimoniously that every woman must do it all." —
Columbus Dispatch
"Emily Giffin explores the awesome power of a love too real to give up. Wonderful characters…and unbeatable prose." —
Oakland Tribune
"Giffin's introspective and moving love story is an ode to those who take the road less traveled." —
The Atlantan
"Emily Giffin keeps you in suspense until the last possible moments, which makes for a page-turning and quick read. If you've ever had doubts about having children or have decided not to have them, you should see some part of yourself reflected in this novel." —
Richmond Times-Dispatch
"Smart, witty. Makes an intriguing story…a cut above." —
Seattle Times
"This take on contemporary relationships asks whether a childless-by-choice marriage is selfish, then moves on to fallout for philandering spouses, infertility, problem parents and the challenge of seemingly irredeemable mistakes. Thought-provoking…" —
Dallas Morning News
"Emily Giffin delivers a warm, witty story about a perfect couple who suddenly finds themselves at odds over the decision to have children. A must-read for any woman, mother or not." —
Jezebel magazine
"Emily Giffin has proven herself as a master storyteller and writer. Though BABY PROOF entertains with its relationship drama, it also digs deep into the more serious issue of exactly what it means to choose
not
to have children. It raises important questions about how we, as women, define ourselves. More importantly, Giffin's heartfelt novel forces people to contemplate the reality of making sacrifices for the ones we love most." —
Woodbury magazine
"Bestselling author Emily Giffin is a savant of unsympathetic situations, effortlessly bringing depth and humanity to flawed heroines. There are no easy answers in this achingly honest exploration of whether there's such thing as a 'deal-breaker' in true love. What you do get are dynamic characters…organic, layered storytelling…and an ending guaranteed to have Giffin's legions of female fans talking." —
Edmonton Journal
"A sometimes funny, always thoughtful exploration about how life sometimes has other plans for us than the ones we make for ourselves." —
Library Journal
"Offers multiple and complex perspectives on the crazy experiment that is parenting." —
Daily Candy
"Impeccable writing…Giffin steers clear of cliché by creating characters who are not only likeable and honest, but as vivid and real as your closest friends…Delightful and captivating." —
Austin Fit magazine