The Girl Who Circumnavigated Fairyland in a Ship of Her Own Making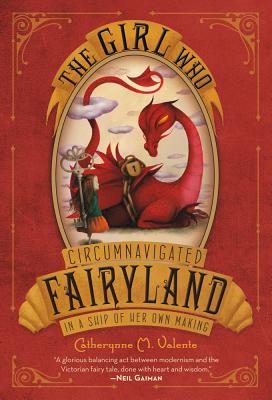 The Girl Who Circumnavigated Fairyland in a Ship of Her Own Making
Square Fish, Paperback, 9781250010193, 247pp.
Publication Date: May 8, 2012
* Individual store prices may vary.
Buy at Local Store
Enter your zip code below to purchase from an indie close to you.
or
Buy Here
Description
"One of the most extraordinary works of fantasy, for adults or children, published so far this century." Time magazine, on the Fairyland series
Twelve-year-old September lives in Omaha, and used to have an ordinary life, until her father went to war and her mother went to work. One day, September is met at her kitchen window by a Green Wind (taking the form of a gentleman in a green jacket), who invites her on an adventure, implying that her help is needed in Fairyland. The new Marquess is unpredictable and fickle, and also not much older than September. Only September can retrieve a talisman the Marquess wants from the enchanted woods, and if she doesn't . . . then the Marquess will make life impossible for the inhabitants of Fairyland. September is already making new friends, including a book-loving Wyvern and a mysterious boy named Saturday.
With exquisite illustrations by acclaimed artist Ana Juan, "Fairyland" lives up to the sensation it created when author Catherynne M. Valente first posted it online. For readers of all ages who love the charm of "Alice in Wonderland" and the soul of "The Golden Compass," here is a reading experience unto itself: unforgettable, and so very beautiful.
"The Girl Who Circumnavigated Fairyland in a Ship of Her Own Making" is a "Publishers Weekly" Best Children's Fiction title for 2011.
About the Author
Catherynne M. Valente is a "New York Times" bestselling author of fantasy and science fiction novels, short stories, and poetry.She has been nominated for the Hugo, Nebula, and World Fantasy awards, and has won the Locus and Andre Norton award. She lives on a small island off the coast of Maine with her husband, two dogs, one enormous cat, a less enormous cat, six chickens, a red accordion, an uncompleted master s degree, a roomful of yarn, a spinning wheel with ulterior motives, a cupboard of jam and pickles, a bookshelf full of folktales, an industrial torch, an Oxford English Dictionary, and a DSL connection.

ANA JUAN is a world-renowned illustrator known in this country for her wonderful covers for the New Yorker magazine, as well as the children's books "The Night Eater", and "Frida", written by Jonah Winter. She lives in Spain.
Praise For The Girl Who Circumnavigated Fairyland in a Ship of Her Own Making…
"A glorious balancing act between modernism and the Victorian Fairy Tale, done with heart and wisdom."  —Neil Gaiman, Newbery Award-winning author of The Graveyard Book
"September is a clever, fun, stronghearted addition to the ranks of bold, adventurous girls.  Valente's subversive storytelling is sheer magic." —Tamora Pierce, author of The Immortals series "A mad, toothsome romp of a fairy tale -- full of oddments, whimsy, and joy." -- Holly Black, author of
Zombies vs. Unicorns
and the Spiderwick Chronicles
"When I saw that this book reminds me simultaneously of E. Nesbit, James Thurber, and the late Eva Ibbotson, I don't mean to take anything awy from its astonishing originality.  It's a charmer from the first page, managing the remarkable parlay of being at once ridiculously funny and surprisingly suspenseful.  Catherynne Valente is a find, at any age!" -- Peter S. Beagle, author of The Last Unicorn
 "This is a kind of
The Wonderful Wizard of Oz
by way of
Alice's Adventures in Wonderland --
it's the sort of book one doesn't want to end." --
Publisher's Weekly
, Starred Review "[Fairyland creates] a world as bizarre and enchanting as any Wonderland or Oz and a heroine as curious, resourceful and brave as any Alice or Dorothy. Complex, rich and memorable." --
Kirkus,
Starred Review
"This book is quite simply a gold mine." -- Booklist, Starred Review
"Amusing, wrenching, and thought-provoking." --  The Horn Book
Friday, Dec 23, 2011
Science fiction and fantasy books aren't just getting more popular, they're interbreeding with other genres to produce wild new hybrid forms � swapping DNA with literary novels, commenting on current events, morphing into historical science fiction romances, and evolving into hard-boiled detective fantasy. More at NPR.org