Runaway Man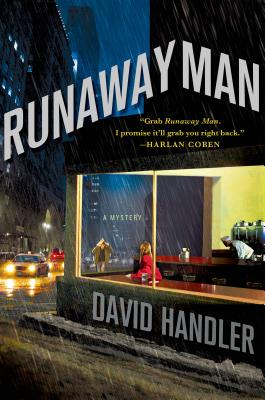 Runaway Man
Minotaur Books, Hardcover, 9781250011626, 246pp.
Publication Date: August 20, 2013
* Individual store prices may vary.
Not Currently Available for Direct Purchase
or
Shop Local
Enter your zip code below to purchase from an indie close to you.
Description
Benji Golden works in his family's struggling mom-and-pop business above a twenty-four-hour diner on Broadway and West 103rd Street. Golden Legal Services, a private detective agency, was started by Benji's hero-cop father. The business is now run by Benji's mother, who used to be the only Jewish pole dancer in New York City, and is staffed by Lovely Rita, an eye-popping computer wizard and a former lap dancer.
Baby-faced Benji who is exactly one-quarter inch shy of five-foot-six, weighs a buck thirty-seven, and answers to the nickname "Bunny" specializes in tracking down teen runaways. One day, when a lawyer in fancy shoes arrives from Park Avenue's classiest law firm offering a job and lots of money, Benji and his mother can't say no.
Bruce Weiner is a senior at prestigious Canterbury College. A client of the firm has bestowed a considerable inheritance on Bruce, but Bruce has gone missing, and it's up to Benji to find him. One murder later, Benji finds himself on a dangerous investigation that will take him to the highly secretive core of the most powerful city on earth.
"Runaway Man" delivers all that a David Handler novel promises: smart humor, a thrilling and sexy story, and characters you won't soon forget.
About the Author
David Handler's first book in the Berger and Mitry series, "The Cold Blue Blood"", " was a Dilys Award finalist and BookSense Top Ten pick. David is also the author of eight novels about the witty and dapper celebrity ghostwriter Stewart Hoag and his faithful, neurotic basset hound, Lulu, including Edgar and American Mystery Award winner "The Man Who Would Be F. Scott" "Fitzgerald". David lives in a two-hundred-year-old carriage house in Old Lyme, Connecticut.
Praise For Runaway Man…
"That 'Runaway Man' is funny, scary and (mildly) prurient will come as no surprise to readers already familiar with the work (20 previous novels) of David Handler....What makes Mr. Handler so much fun to read is that while he's kidding around—and he is a very funny writer—he's taking care of plot business with skillful ease. His dialogue actually reminds me of the late, great Elmore Leonard."—The Washington Times "An exciting well-paced mystery novel which is sure to grab the attention of all readers, even those new to the genre. It was a fun read with a well thought-out plot. Handler's sense of humor also shines through in his writing and I appreciated the sporadic wit and dry sarcasm in balance with the otherwise serious subject material."—San Francisco Book Review

"Handler, known for his quirky characters, doesn't disappoint, mixing an oddball cast with a hearty dose of wry humor and plenty of silly shtick."—Booklist

"This promising first in a new PI series from Handler (The Snow White Christmas Cookie and eight other Berger and Mitry mysteries) introduces Ben "Benji" Golden of Golden Legal Services....Benji holds his own with the big shots and a skilled professional killer in this auspicious and amusing debut."—Publishers Weekly
"Introducing private eye Benji Golden, part nebbish, part mensch....Handler...definitely knows his way around adorable, cute and schmaltzy."—Kirkus Reviews

"David Handler gives his fans a must-read mystery that is on a par with his highly successful Mitch Berger and Des Mitry series....It is an enticing novel with enough violent deaths and shocks to keep my eyes glued to its pages. The raunchy humor and tender romance were big bonuses. At last, David Handler has gone out on the limb to create a heroic PI who is modeled after us little guys."—Gumshoe

"David Handler is so good at writing one smart, funny page-turner after another that he makes it look easy. . . . Grab Runaway Man. I promise it'll grab you right back."—Harlan Coben

"David Handler is the master of the sly, comedic mystery. Runaway Man is his opus. The streets of Manhattan dazzle, the perfect crime isn't and Benji Golden, a would-be actor with a nose for finding missing kids takes on the challenge of his career. This story will grip you and break your heart Handler-style."—Adriana Trigiani, New York Times bestselling author of The Shoemaker's Wife

"A new novel by David Handler means a lost weekend. He is a master storyteller who starts with a character you want to know everything about and leads you into taut, un-put-down-able suspense. He had me on page one with the distinct voice of Benji Golden. Trademark Handler humor, warmth, and insight into the darkest human behavior kept me reading till the devastating and bone-chilling end."—Luanne Rice, New York Times bestselling author of Little Night

"Runaway Man is a stellar beginning to what I hope will be a long series. Benji Golden is one tough and congenitally adorable private eye. He's savvy, smart, and droll--an altogether splendid narrator. David Handler pulls off simultaneous suspense and wit with great deftness.  And wow, that surprise ending!"—Susan Isaacs, New York Times bestselling author of Compromising Positions and Goldberg Variations