A Deniable Death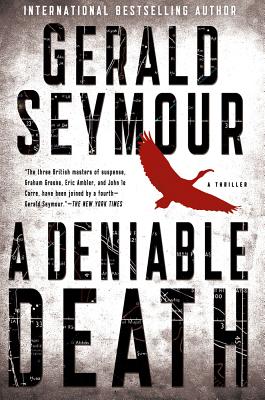 A Deniable Death
Thomas Dunne Books, Hardcover, 9781250018809, 439pp.
Publication Date: February 12, 2013
* Individual store prices may vary.
Buy at Local Store
Enter your zip code below to purchase from an indie close to you.
or
Not Currently Available for Direct Purchase
Description
A page-turning thriller of life and death in the moral maze of the post-9/11 world from the international bestselling author and "best spy novelist ever" ("Philadelphia Inquirer)"
The rules are simple. Break up your shape. Hide your smell. Never show your silhouette. Check the surfaces of your kit. Space the movements of your team. Use the shadows. Danny "Badger" Baxter has a talent for surveillance. He's always followed the rules. Until now, they've kept him alive.
But now Badger has a bigger job than photographing dissident Northern Irish Republicans in muddy Ulster fields, or Islamic extremists on rainswept Yorkshire moors. MI6 have a plan to assassinate the Engineer a brilliant maker of Improvised Explosive Devices, the roadside bombs which account for 80% of Allied casualties in Iraq and Afghanistan. The spooks know he's planning to leave his home in Iran. They just need to find out when and where he's traveling.
So Badger finds himself on the wrong side of the Iranian border, burdened with a partner he loathes, lying under a merciless sun in a mosquito-infested marsh, observing the house. If things go wrong, as far as Her Majesty's Government is concerned, his part in the plot is completely deniable. With "A Deniable Death," Gerald Seymour expertly explores the moral compromises of the secret world upon which we rely for our everyday security - and the amazing reserves of courage which ordinary people can find in extraordinary circumstances.
A "Washington Post "Notable Fiction Book of 2013.
About the Author
Gerald Seymour spent 15 years as an international television news reporter with ITN specializing in the subject of terrorism. His first novel was the acclaimed thriller Harry's Game. He has since written 24 novels, six of which have been filmed for television.
Praise For A Deniable Death…
Praise for Gerald Seymour and A Deniable Death:
"Veteran British spy novelist Gerald Seymour has written an extraordinary work of fiction. This is Seymour's 21st novel, and critics on both sides of the Atlantic have for years compared him to John le Carre, Graham Greene, Eric Ambler and other masters of spy fiction, but his reputation has never quite equaled theirs. No matter. Serious readers will find in A Deniable Death not only suspense, strong characters and a realistic look at the world of espionage, but a majesty that is rare in fiction. At a certain point, the novel rises to a mythic level, portraying courage and loyalty and sacrifice almost beyond understanding." –Washington Post
"Convincing and suspenseful." –Wall Street Journal
"Seymour is a veteran thriller-writer, and this is a genuinely gripping page-turner." –The Atlantic
"Outstanding…  Seymour (Harry's Game) is strong on the details of surveillance and spycraft, but on even surer ground with his characters as he focuses on Gibbons's stoic dedication, Badger's ruthless single-mindedness, and Foxy's prideful professionalism. Even the Engineer comes across as a human being, thanks to a complex subplot about getting his wife to the West for cancer treatment. Once the narrative gains momentum, it's hard to put this one down." –Publishers Weekly, starred review
"The three British masters of suspense, Graham Greene, Eric Ambler, and John le Carre, have been joined by a fourth—Gerald Seymour." –New York Times
"Not since the arrival of John le Carre has the emergence of an international suspense novelist been as stunning as that of Gerald Seymour." –Los Angeles Times Book Review
"[Seymour] isn't just abreast of the headlines, [but] ahead of them." --The Washington Post
"Seymour may be the best spy novelist ever." –Philadelphia Inquirer
"Suspense master Seymour dazzles with commanding language and meticulous detail." –Entertainment Weekly on Rat Run
"A book for those seriously into espionage who want to absorb every detail of how a spy mission is planned and carried out… Seymour's painstaking attention to detail is a plus, as it gives the story an authentic ring and lets the reader experience the mission in real time." --Kirkus
"In a class of his own." –The London Times
"Picking up a novel by Gerald Seymour is like taking a deep breath of fresh air . . . When readers get to the nailbiting climax, involving an agonising wait for airborne rescue, they may be wondering why they should bother with any other thriller writer." --Independent (London)
"The novel exemplifies Seymour's ability to create and control a large, vividly drawn ensemble who are unwittingly connected (in this case via two fed-up soldiers)… Also characteristic is a Hitchcockian skewing of the reader's sympathies, with the ostensible good guys in Whitehall shown as coldly ready to sacrifice lives, and the bomb-maker seen in the round as both killer and devoted husband." --The Sunday Times (London)
"Seymour is a master of the thriller set on the murky edges of modern war . . . As ever he juggles action, context and suspense with a special-forces level of expertise." --i
"After 28 novels, Seymour's empathy for those he ensnares in his moral minefields remains movingly even-handed." --Daily Telegraph (London)
"A gripping thriller." --Sun

"Mr Seymour is . . . on form . . . The tradecraft of silent watching and the discomfort, thirst and increasing claustrophobia of the hideout are brought very much to life . . . the grim landscape of the border region and the harsh lives of its inhabitants are skilfully evoked." --The Economist (Australia)
"Great storytelling . . . You just have to read this novel as it is absolutely gripping." --Eurocrime
"Gerald Seymour is the grand-master of the contemporary thriller and Deniable Death is his greatest work yet. Gripping, revealing and meticulously researched, this is a page-turning masterpiece that will literally leave you breathless." --Major Chris Hunter, author of Extreme Risk

"Seymour is not one to cut corners. He does his research, thinks hard about his story and gives us richly imagined novels that bristle with authenticity." --Washington Post on The Collaborator

"Seymour [is] incapable of creating a two-dimensional character." --The Times

"Discerning thriller readers can safely say that the best practitioner currently working in the UK is the veteran Seymour. He is, quite simply, the most intelligent and accomplished in the current field . . . Here, we have a typically compromised Seymour anti-hero, a masterfully organised globe-spanning narrative and a mass of highly persuasive detail. The Dealer and the Dead is Seymour firing on all cylinders, and his rivals need, once again, to look to their laurels." --Barry Forshaw

"With Seymour, not only do you get a cracking story deftly told, but you also feel you are learning something." --Birmingham Press

"In a class of his own." --The Times on THE WAITING TIME

"One of the modern masters of the craft." --Daily Mail on THE COLLABORATOR
"Gerald Seymour is considered the dabbest hand in the industry . . . still a master who executes his spy tales of murderous and political intrigue with rigour and flair. Seymour is a master at evoking the seemingly unchartable terrain of foreign landscapes - as a former reporter covering wars in Vietnam, Northern Ireland and Borneo, he brings to bear some every pertinent experience. His research into the espionage world is meticulous. Splendid stuff." --City AM

"A vividly drawn ensemble of spooks, terrorists and civilians." --Sunday Times Books of the Year 2011

"A vividly drawn ensemble of spokes, terrorists and civilians." --John Dugdale

"One of the most venerable names of the thriller genre, Gerald Seymour, showed that age was not withering him." --Independent Books of the Year