The Fighting Irish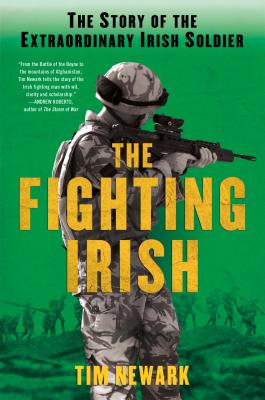 The Fighting Irish
The Story of the Extraordinary Irish Soldier
Thomas Dunne Books, Hardcover, 9781250018823, 274pp.
Publication Date: March 5, 2013
* Individual store prices may vary.
Not Currently Available for Direct Purchase
or
Shop Local
Enter your zip code below to purchase from an indie close to you.
Description
"Tells the story of the Irish fighting man with wit, clarity, and scholarship." Andrew Roberts, author of "The Storm of War"
For hundreds of years, Irish soldiers have sought their destiny abroad. Wherever they've traveled, whichever side of the battlefield they've stood, the tales of their exploits have never been forgotten.
Leaving his birthplace, the Irish soldier has traveled with hope, often seeking to bring a liberating revolution to his fellow countrymen. In search of adventure the Fighting Irish have been found in all corners of the world. Some sailed to America and joined in frontier fighting, others demonstrated their loyalty to their adopted homeland in the bloody combats of the American Civil War, as well as campaigns against the British Empire in Canada and South Africa. The Irish soldier can also be found in the thick of war during the twentieth century facing slaughter at the Somme, desperate last-stands in the Congo and, more recently, in Iraq and Afghanistan.
In "The Fighting Irish," Tim Newark tells their tales in the dramatic words of the soldiers themselves, gathered from diaries, letters, journals, and interviews with veterans in Ireland and across the world.
About the Author
Tim Newark is the author of "Boardwalk Gangster" and "Mafia Allies" and the editor of "Military Illustrated, "and he has contributed book reviews to the "Financial Times, Time Out", and the "Daily Telegraph". He has worked as a scriptwriter and consultant for seven TV documentary series for the History Channel and BBC Worldwide. He lives in London.
Praise For The Fighting Irish…
Praise for The Fighting Irish:

"A testament to Irish soldiers throughout modern history." —Publishers Weekly

"From the Battle of the Boyne to the mountains of Afghanistan, Tim Newark tells the story of the Irish fighting man with wit, clarity and scholarship. No-one could do it better, reminding us that despite being a neutral country, Ireland has provided some of the world's toughest, bravest and most dedicated soldiers." —Andrew Roberts, author of The Storm of War "Tim Newark's The Fighting Irish is to be welcomed, exploring as it does frequently overlooked—and often truly startling and dramatic—personal narratives… Newark has highlighted a giddying range of historical experience, to impressive effect."—BBC History Magazine "The Fighting Irish is a must-read for anyone wanting to know how such a small nation can provide some of the world's finest fighting men." —Captain Doug Beattie MC, 1 R Irish, author of Task Force Helmand

"Reading this fascinating book over the St Patrick's Day festivities would be as good a way as any and better than most, to celebrate what it is to be Irish." —Galway Advertiser

"Encapsulates Ireland's international military tradition [and] sheds light on forgotten history… It is this fighting spirit that is rightly celebrated in this book." —Irish Independent "An excellent introduction to the military history of the Irish." —StrategyPage.com
 Praise for Highlander:


"Highlanders have long been among the most feared soldiers in the world, and Tim Newark's book admirably tells their stirring tale. A great read!" --Bernard Cornwell

 "An impressively researched and immensely readable celebration of the Highland soldier." --Stuart Reid, author of Culloden 1746 and The Scottish Jacobite Army

"Tim Newark is a remarkably gifted storyteller, and in Highlander he really brings these proud soldiers to life." --The Scotsman 

"The book benefits from exhaustive research, unpublished manuscripts, memoirs, and letters. ... Such statements by the Highlanders themselves, which Newark unearthed, make for a powerful portrait of ferocity and courage." --Publishers Weekly