If I Can't Have You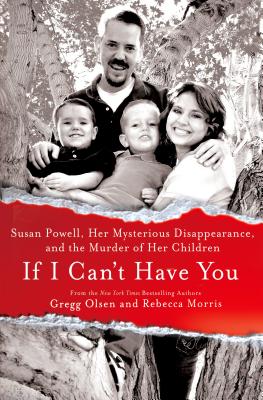 If I Can't Have You
Susan Powell, Her Mysterious Disappearance, and the Murder of Her Children
St. Martin's Press, Hardcover, 9781250027146, 324pp.
Publication Date: May 20, 2014
* Individual store prices may vary.
Buy Now
or
Shop Local
Enter your zip code below to purchase from an indie close to you.
Description
In "If I Can't Have You," bestselling author Gregg Olsen and co-author Rebecca Morris investigate one of the 21st Century's most puzzling disappearances and how it resulted in the murder of two children by their father.
Every once in a great while a genuine murder mystery unfolds before the eyes of the American public. The tragic story of Susan Powell and her murdered boys, Charlie and Braden, is the only case that rivals the Jon Benet Ramsey saga in the annals of true crime. When the pretty, blonde Utah mother went missing in December of 2009 the media was swept up in the story with lenses and microphones trained on Susan's husband, Josh. He said he had no idea what happened to his young wife, and that he and the boys had been camping in the middle of a snowstorm.
Over the next three years bombshell by bombshell, the story would reveal more shocking secrets. Josh's father, Steve, who was sexually obsessed with Susan, would ultimately be convicted of unspeakable perversion. Josh's brother, Michael, would commit suicide. And in the most stunning event of them all, Josh Powell would murder his two little boys and kill himself with brutality beyond belief.
About the Author
Gregg Olsen has been a journalist and investigative author for more than twenty years. He is the recipient of numerous writing, editing, and photojournalism awards, including citations of excellence from the Society of Professional Journalists (Sigma Delta Chi), the International Association of Business Communicators, Washington Press Association, Society of Technical Communication, and the Public Relations Society of America.
A resident of Washington state, Olsen has been a guest on dozens of national and local television shows, including educational programs for the History Channel, Learning Channel, and the Discovery Channel. Olsen also appeared several times on "CBS's 48 Hours, MSNBC's Special Edition, Entertainment Tonight, Sally Jesse Raphael, Inside Edition, "and "Extra". He has been featured in "USA Today, Salon Magazine, Seattle Times, "and "the New York Post." His true crime books include "If I Can't Have You" and "Cruel Deception."
Rebecca Morris is the "New York Times" bestselling author of "Bodies of Evidence" as well as "If I Can t Have You: Susan Powell, Her Mysterious Disappearance and the Murder of Her Children" (both with Gregg Olsen). They are also the authors of a series of books, "Notorious USA", about infamous crimes in every state.
She is the author of the bestseller "Ted and Ann: The Mystery of a Missing Child and Her Neighbor Ted Bundy", and "Bad Apples: Inside the Teacher/Student Sex Scandal Epidemic".
As an award-winning reporter Rebecca Morris worked in journalism in New York City; Portland, Oregon; and Seattle, Washington. She lives in Seattle.

Praise For If I Can't Have You…
Praise for Gregg Olsen:

"Olsen's [writing] is both gossipy and sympathetic, searing and brilliant. . . . A must read for true crime aficionados and students of abnormal psychology! I read until 3 a.m.!" —Ann Rule on If Loving You is Wrong


"Gregg Olsen is one of this country's favorite true crime writers…Olsen takes readers behind the scenes of this fascinating case." —Tucson Citizen on A Twisted Faith
"As good as it gets." —Lee Child on A Wicked Snow

"A rapid-fire page-turner." —Seattle Times on A Twisted Faith
"A disturbing portrait of a community undone by its appealing young pastor…. An unsettling story of a man who committed murdered and then used his charm and his power as a man of God to exploit his congregants and satisfy his sexual obsession." —Publishers Weekly on A Twisted Faith

"Dark, atmospheric, riveting suspense . . . Gregg Olsen is one of the best." —Allison Brennan, New York Times bestselling author of Fear No Evil on A Cold Dark Place