Digital Vertigo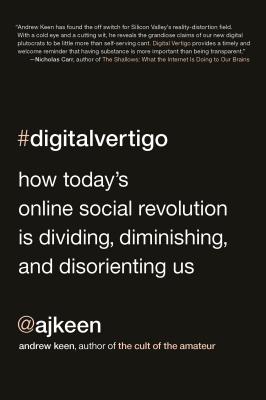 Digital Vertigo
How Today's Online Social Revolution Is Dividing, Diminishing, and Disorienting Us
Griffin, Paperback, 9781250031396, 246pp.
Publication Date: April 30, 2013
* Individual store prices may vary.
Buy Now
or
Shop Local
Enter your zip code below to purchase from an indie close to you.
Description
""Digital Vertigo" provides an articulate, measured, contrarian voice against a sea of hype about social media. As an avowed technology optimist, I'm grateful for Keen who makes me stop and think before committing myself fully to the social revolution." Larry Downes, author of "The Killer App"
In "Digital Vertigo," Andrew Keen presents today's social media revolution as the most wrenching cultural transformation since the Industrial Revolution. Fusing a fast-paced historical narrative with front-line stories from today's online networking revolution and critiques of "social" companies like Groupon, Zynga and LinkedIn, Keen argues that the social media transformation is weakening, disorienting and dividing us rather than establishing the dawn of a new egalitarian and communal age. The tragic paradox of life in the social media age, Keen says, is the incompatibility between our internet longings for community and friendship and our equally powerful desire for online individual freedom. By exposing the shallow core of social networks like Facebook, Andrew Keen shows us that the more electronically connected we become, the lonelier and less powerful we seem to be.
About the Author
Andrew Keen is the executive director of the Silicon Valley salon FutureCast, a columnist for CNN, and a regular commentator on all things digital. He is the author of Digital Vertigo and the international sensation The Cult of the Amateur, which has been published in seventeen languages.
Praise For Digital Vertigo…
"Unlike most commentators, Andrew Keen observes the internet as if from a distance.  Digital Vertigo may be one of the few books on the subject that, twenty years from now, will be seen to have got it right. Neither blinkered advocate nor hardened cynic, he identifies the good and the bad with a rare human and historical perspective. "--Sir Martin Sorrell, CEO, WPP 
 "Andrew Keen has found the off switch for Silicon Valley's reality distortion field. With a cold eye and a cutting wit, he reveals the grandiose claims of our new digital plutocrats to be little more than self-serving cant. Digital Vertigo provides a timely and welcome reminder that having substance is more important than being transparent."--Nicholas Carr, author of The Shallows: What the Internet Is Doing to Our Brains
"Andrew Keen is that rarest of authors: one has taken the time to understand the benefits of technological innovation before warning us of its risks. In Digital Vertigo Keen finds himself in a dizzying world where it is not just possible to share every detail of our professional and private lives, but actually expected. While a growing number of his friends -- including those in the upper echelons of Silicon Valley society -- preach the gospel of total transparency and cyber-oversharing, he refuses to blindly click the "accept" button. Instead he takes us on a guided tour of the history of privacy, solitude and the technology of socialization -- before encouraging us to take a long, hard look at our lives before we blindly allow others to do the same. A vital and timely book that's terrifying, fascinating, persuasive and reassuring all at the same time. And one that will make even the biggest Facebook-o-phile or Linked-in-a-holic think twice before adding another contact to their network."--Paul Carr, author of Bringing Nothing to the Party and The Upgrade
"A bracing read. From Hitchcock to Mark Zuckerberg and the politics of privacy, a savvy observer of contemporary digital culture reframes current debates in a way that clarifies and enlightens."--Sherry Turkle, author of Alone Together
"Web 3.0 has catapulted society to new technological heights, yet afflicted us individually with a profound sense of vertigo as we stand naked for all to see. It is almost too late to ask whether we would live our digital lives differently if we had known that privacy would become the scarcest commodity on the Internet. But in this timely and important book, Andrew Keen once again thinks one step ahead of social media pioneers, posing questions they will need to answer or risk facing a digital uprising. Equal parts philosophical and informative, Digital Vertigo brings us back to 19th century debates that have an eerie relevance to today's technological dilemmas, while also laying out the latest corporate strategies being deployed to decipher and commercialize your most intimate thoughts. Better than any other multi-media expert, Keen challenges the false promise of the virtue of sharing." -- Parag Khanna, Director, Hybrid Reality Institute, and author of How to Run the World: Charting a Course to the Next Renaissance

"Despite the unfortunate lesson throughout the 20th Century of the dangerous allure of utopian thinking, the Digital Age has inspired a whole new generation of fabulously successful entrepreneurs who preach the revolutionary future of Web 2.0, Web 3.0, . . .  That's why Andrew Keen's work is so important.  He's a voice of informed caution, a Silicon Valley insider warning against false prophets and a future that may destroy as much as it creates.  In Digital Vertigo, he examines the fantastical claims for and astounding growth of social media, countering the vision of excited gurus with sober, reality-based queries and judgments.  The book is a tonic for individuals who are tired of the hype and coercion and display of online contact."-- Mark Bauerlein, author of The Dumbest Generation

"Digital Vertigo provides an articulate, measured, contrarian voice against a sea of hype about social media.  As an avowed technology optimist, I'm grateful for Keen who makes me stop and think before committing myself fully to the social revolution." -- Larry Downes, author of the e-commerce bestseller Unleashing the Killer App: Digital Strategies for Market Dominance